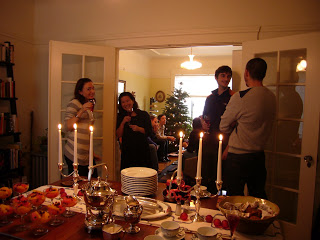 Party Recipe: Holiday Brunch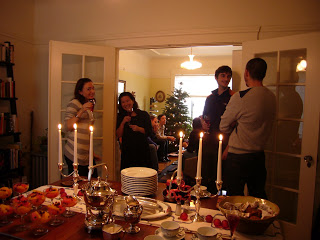 Such a fun party! I love the flexibility that a brunch allows. Here's our holiday party recipe:
Decorations: My new candelabras from Rob were the stars of the show. We had the blue and white runner from Ikea. Red Christmas bulbs. A big decorated tree and lots of shiny wedding presents on display.
Drinks: Coffee with warm milk. Pink champagne pomegranate mimosas. Sparkling apple cranberry cider.
Food: We started with an appetizer of breakfast canapes: cream cheese, capers and lox on melba toasts. Then the main buffet with a spiral cut ham, potato tarts and a savory Gruyere and spinach bread pudding. Citrus salad in festive champagne saucers (technique here). And wrapped up with a bundt coffee cake and fudge brought by my cousin.
Activities: Mostly just hearty conversation and cooing at adorable Moses. Toward the end of the party, Susan and I worked on making some beeswax candles.