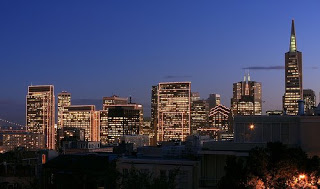 Weekend Round-Up: Holidays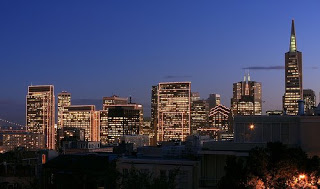 This weekend was all about the holiday parties. On Friday, we had our office party at an Italian restaurant in North Beach. It was fun to see all the restaurants in town with their twinkle lights and tents for parties like ours.
After the office party, we promised a co-worker from New York that we would go for karaoke. Which meant going across town to the worst bar. One friend put it best: "every jerk from high school I never wanted to see again is in this place." Our song (Rocket Man) went well at least. We managed to escape by cab at 2:30.
We slept in the next morning and spent the rest of the day running errands for Sunday's party: grocery shopping and ham gathering. And the rest of the evening was devoted to polishing silver, chopping and cooking. Whew! Holiday parties are a lot of work.
After dinner, I opened my Christmas present from Rob. Two incredible silver candelabras! The top unscrews to turn them into plain candlesticks. He certainly knows my taste!
Our brunch guests started to arrive the next morning in the rain. We welcomed them with hot coffee and pomegranate mimosas. We we're 14 altogether. I'll do a complete "party recipe" for the brunch separately. Great friends, great food and a great time! Things started to wind down at 1:30.
Rob and I went to the climbing gym after the party to burn off a few calories. And then ran some holiday errands and shopping across town in the pouring rain. Thank heavens for the miserable winter weather that gave us a great excuse for staying in with the dishes and beeswax candles.