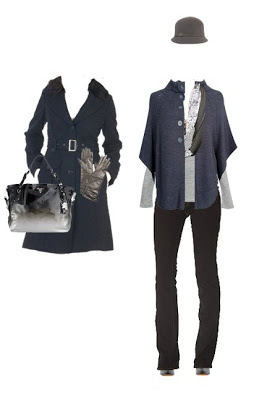 What to Wear: Chicago Au Pair
Here's a good winter What to Wear from Lena, who is moving to Chicago:
In February I am moving to Chicago to be an au pair for two adorable children, a girl 13 and a boy 11. I will be driving them to school and hobbies. I live in Norway where we have all the seasons. 14 degrees in the winter, and up to 70 in the summer. I like classic clothes with a little boho inspired. Like Jennifer Aniston and Reese Witherspoon. I like to wear tights and tunics, dark straight jeans and loose tops. with ballerina flats. I shop a lot at H&M. I can only bring a limited amount of clothes and shoes and bags. I have a Prada ombre handbag I would like to bring… I have sold everything I own here, so I have some money to buy new clothes and supplies for the trip…What do I wear in chicago, and what do I bring?
Start by building a wardrobe of versatile pieces that match the bag; so blacks, grays, ivories and golds. Focus on basics that can survive the cold winter and the spring running around Chicago. Here's one outfit to get you going: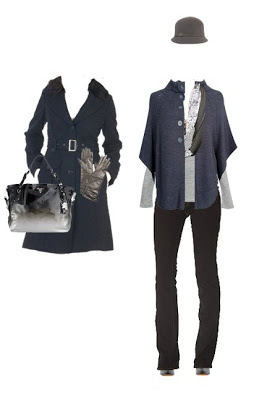 Denim – I'm in loooove with these black jeans. They're not cheap, $158, but you could wear them at least twice a week. Or try finding a different pair of black straight leg jeans for less.
Shirt – Start layering with a warm long sleeved shirt.
Sweater – Go loose with an inexpensive chunky sweater. Oops…so I just realized this is a poncho. No on the poncho…but something like this with the sleeves defined.
Scarf – The scarf is so key. It doesn't have to be this – somewhat overpriced – boho version. But find the right scarf that can go with almost anything.
Boots – I know…crocs? But they're low and probably very comfortable and on sale and you'll get frostbite wearing regular flats in February Chicago. You don't have to tell anyone.
Gloves – This tall version is my favorite.
Coat – You'll need some very warm layers. This coat from Target has some style. Of course, living in a snowy climate in Norway you probably already have some great winter layers to bring.
Hat – Another thing that could really help you in the cold. I like the wink at classic "nanny" style too.
Stay warm out there Lena!