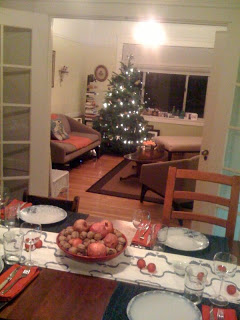 Party Recipe: Holiday Dinner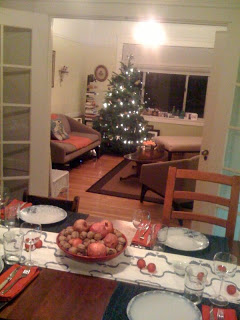 Last night was a success! Rob and I jumped into action after work to set the table, cook, iron napkins, etc. Here's the party recipe:
Decorations
Our new wedding china in blue and white. The red holiday napkins I embroidered a couple years ago. Centerpiece of a red bowl filled with walnuts and pomegranates. A blue and white ikea tablecloth as a runner and blue jute placemats. Red Christmas light bulbs and tea lights.
Food
I had a brief moment of panic when I realized this was my first time cooking for a pregnant woman and made Rob google the list of banned foods. Whew! My menu turned out to be safe.
The baked brie, of whose success I was a little doubtful, was a hit. Just wrap a lump of brie, topped with jam (blackberry) and walnuts, in pie crust dough and bake until golden. It would be even better with camembert. The potatoes were creamy and garlicky. The chicken turned out deliciously with brown mushrooms and carrots adding a little flair to the purple-tinged gravy. And the tiramisu was just heavy enough to feel like the lux cherry on top.
What a fun time! And after our guests left, Rob and I abandoned the clean-up to watch the rest of the nutcracker ballet on TV. A lovely holiday evening.