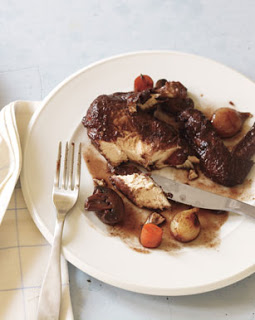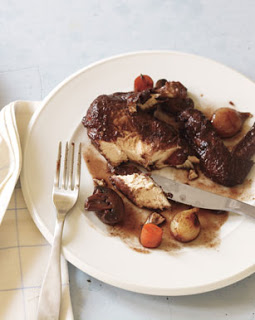 We're having friends over for a holiday dinner tonight. Being so sick recently, I haven't done anything to plan or prepare yet. Luckily, our housekeeper came today and got her Christmas bonus…so the apartment will be super clean. And our guests are "meat and potato" types who are easy to cook for.
I went shopping and threw together this festive menu. We'll start with a baked brie, using leftover pie crust dough and homemade jam. Follow that with coq au vin and mashed klamath pearl potatoes. And tiramisu for dessert. Thank you Trader Joe's!
Here's my mom's recipe for easy coc au vin:
1 chicken in 8 pieces. Or 4 chicken breasts, bone in.
1 chopped onion (using pearl onions is fancier/harder)
Tops and leaves from 1 bunch of celery
1 bay leaf
1 cup of flour
1/3 cup olive oil
Ample red wine
Extra button mushrooms, bacon/lardon, carrots, etc optional.
Skin the chicken, cut breasts in half and drench in flour. Brown chicken pieces in a pan with olive oil. Add more flour to remaining juices to thicken. Add the chopped onion, celery and red wine (until covered) and simmer until tender (30-40 minutes). Remove the bay leaf and the celery. Serve in a big bowl poured with the mashed potatoes.
Make a lot, it's even better the next day.