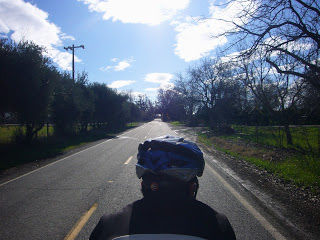 Weekend Round-Up: Biking Between the Rain
Of our my goals for the year has been to spend more time visiting out-of-town friends. So this weekend, Rob and I hit the road for Davis in the pouring rain.
We spent Friday night at a housewarming party for my high-school buddy, Jackie. She has a new apartment in The Village, a famous planned community with a focus on bike paths, edible gardens and solar panels. Completely Davis "high society!" (To Sara: your family is practically Davis royalty. Everyone at the party seemed to know you or your parents!)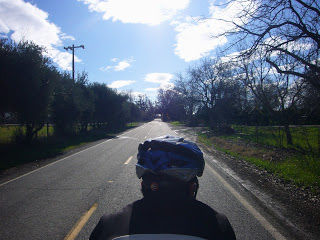 Sunday morning, the skies were cloudy but dry. We biked to Cafe Bernardo for a huge eggs benedict and burrito breakfast. After, we rode our bikes 15 miles, along almond groves and sheep farms, out to Winters.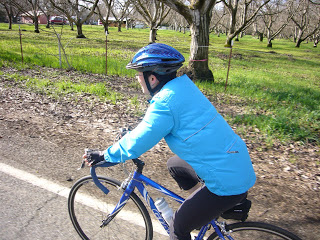 We had a great pace on these empty roads and finished all 30 miles pretty quickly. Back at her apartment, we helped with some errands and had a grilled cheese lunch before driving back to the city. Hot baths to rest our sore arms and legs.
Sunday morning, we followed our new routine. Up early to bike to Velo Rouge Cafe, cups of delicious Blue Bottle coffee and breakfast sandwiches. It was a very windy and cold day out but we managed to ride another 10 miles around the city after, focusing on climbing hills. I'm getting buff!
I met up with Amber in the afternoon for a movie. We saw Bride Wars, which was a bit better than expected. A fun cotton-candy movie: sweet, airy, colorful and with no redeeming nutritional value. Back at home, Rob and I cleaned house and prepared for the week ahead.