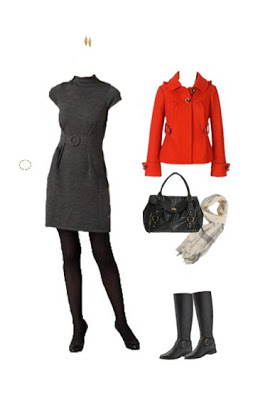 What to Wear: Riding Boots
Kate got a great present for Christmas this year:
My husband surprised me with an early Christmas gift of beautiful black riding boots. I usually lean toward a bit of a heel and a pointy toe for boots, but was surprised by how much I loved these when I tried them on. Can you suggest a work-appropriate outfit that would go with these great boots? I'm 5'7″ and a size 10, and though I work in a fairly conservative environment, am desperately trying to add some interest to my wardrobe!
How fun! Let's pair the boots with a sleek sweater dress: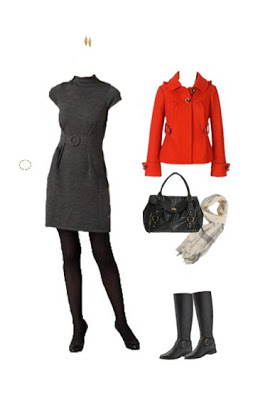 Dress – $40 down from $200 for this Design History dress? Nice. America Ferrara rocked her hourglass figure in a similarly belted dress on The View this week. Add your own wide belt if you want more structure. Wear your hair up to accentuate the neckline.
Tights – My favorite thing this winter. Or, you could add even more flair with a pair in blue.
Jacket – In bright persimmon red from Anthropologie on sale.
Boots – Kate's own, with Nike cushions and a little sale to boot.
Bracelet – I have this one from many years ago. It's darling, and half off at $22.
Scarf – In cream and gray from Forever21.
Earrings – On sale at the Met.
Bag – On sale at Urban Outfitters.
Throw a classic khaki trench on top. Comfy and polished for winter in the office.