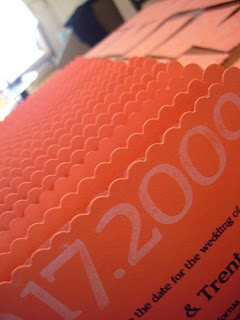 This weekend I learned that crafts not only stimulate your creativity, but can also work out your abs. I've practically earned a six pack after spending two days Gocco-printing.
Rob left early Saturday morning for a day-long mountain bike ride. I walked around the neighborhood running errands and prepping the my sister's save-the-date designs for screenprinting (making carbon copies at the grocery store). I grabbed breakfast of coffee and a ham croissant.
Back at home, I went to work on printing. First, all the fronts of the cards with the date and details.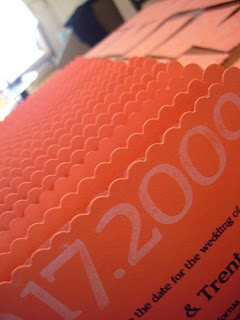 A quick break for lunch and a bath while the cards dried. Then a second round through the Gocco to print the papel picado design on the back. I kept Jean and Trent posted on my progress with emailed photos through the day!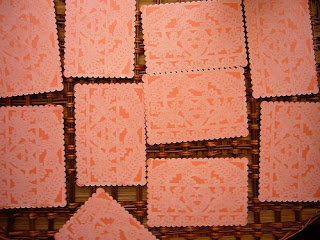 Rob returned from his ride at six – he had quite a day, including riding with the owner of a major bike company and getting a flat tire. We walked around the neighborhood a bit and ended up getting sandwiches for dinner at Ike's Place. So good! No wonder there's always a crowd there – try the Hot Momma Huda. I embroidered some onesies for the baby shower next weekend after dinner.
We slept in the next morning. I found myself surprisingly sore from the five hour printing session on Saturday. On the tandem for a quick breakfast ride to Velo Rouge Cafe. Around Golden Gate park, to the beach, the produce market and back home. Rob took off after lunch to volunteer with the Bike Coalition.
Back to the invitations! I sent Jean and Trent some pencil sketches for the envelope liners. We decided on a small flag bunting design and I got to work in PhotoShop. The final design came out so well in two tones of blue ink.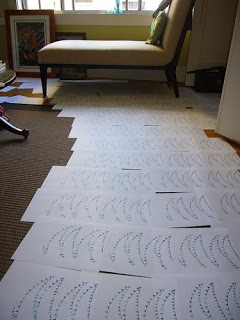 Rob came home at four to find me only 30 into my run of 200 sheets. He jumped in to help and we finished at six. Half the apartment was covered with drying sheets of paper by the time we were done. After dinner, we went to work finishing the envelopes. I cut the liners and Rob glued them in, he's a great helper!
Check in on Wedding Wednesday to see the finished product up-close!