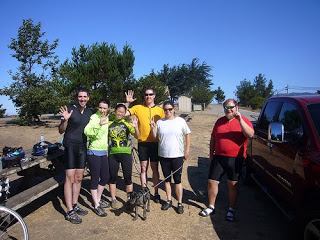 Day Five: Promenade from San Simeon to San Luis Obispo – 55 miles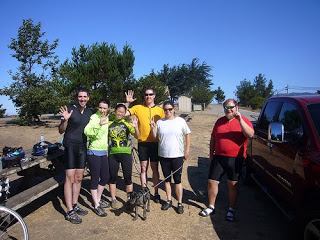 Day five started with a hearty banana, blueberry pancake breakfast in the trailer. Overnight, our friend Fred had arrived to ride with us the last day. Firmly in familiar territory, this would be a casual ride to the finish line.
Actual sun and warmth as we rode from Cambria through Harmony to Cayucus with our biggest peloton yet.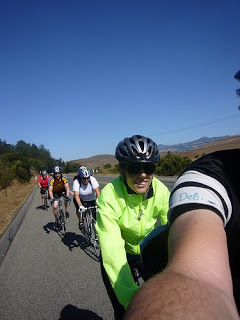 Big lunch at Taco Temple in Morro Bay with the whole crew. Seth and Amy peeled off after eating to head back to Sacramento.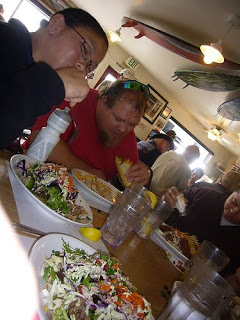 The remaining 15 miles to San Luis were a cinch. We ran into another couple on bikes that had done almost the exact same course as us and chatted about how terrible Aptos was (seriously, Aptos…I'm never going back). We hit San Luis Obispo early and had time for a frozen yogurt and haircut before our grand finale.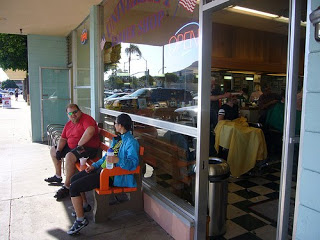 My mom and Shane had coordinated a big finish for us in Mission Plaza. About 20 people, a yellow finish line, flowers, balloons, a yellow jersey for Rob, crowns…the works!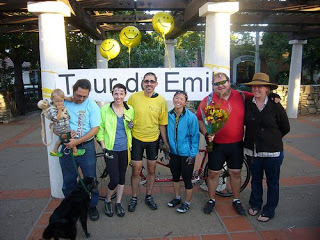 We followed this celebration with a fun BBQ dinner party at my parent's house. We told all about our adventures over guacamole, chips, cheese, hotdogs, chili and fruit salad. Plus, a big cake for our wedding anniversary!
All in all, a great week and a fine adventure! It was so nice to spend time together with our friends like this. And to be along the beautiful coast for so many days. The physical part of riding 300 miles turned out to be not that big of a deal and the mental side really taught me about my own toughness.
You can see all the photos from Tour de Emily online.