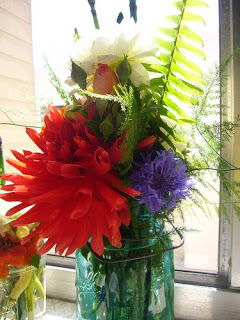 To Do: Wedding Flower Test
Jean's wedding is only a couple weeks away! Last weekend, I went to the wholesale flower market to do a test run of bouquets, centerpieces and boutonnières. Dahlias, zinnias, cornflowers, spray roses, two kinds of ferns, equisetum and ornamental chili peppers went into each one.
The final results go well with the "farm fiesta" theme. Now I just have to do it all over again times six…yikes.
PS: Happy October! Don't you just love October?