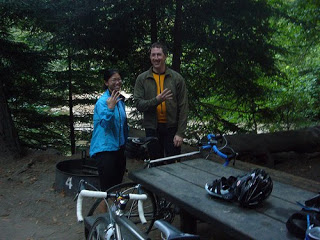 Day Four: Big Sur to San Simeon – 72 miles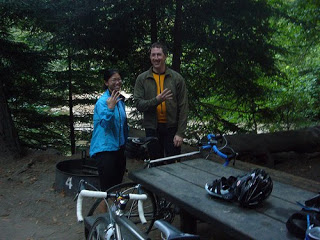 Still feeling pretty sore and bonk-y when we woke up at 5:50 am on Tuesday morning. Our early start was designed to help us avoid traffic on our biggest day of riding. We had four BIG hills (4,000 feet of climbing) to tackle in 70+ miles.
The first climb was straight after our campsite – brutally in the sun. Amazingly, my headache and soreness disappeared as we headed back down into the fog.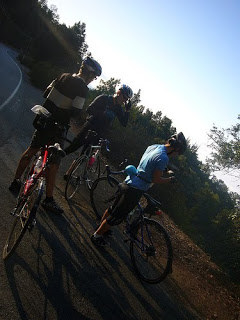 And by fog, I mean FOG. This fog was pea-soup thick, with only 50 foot visibility in places. We were quickly soaking wet. It was actually a blessing – fewer tourists swerving in their cars to take photos when you can't see the ocean.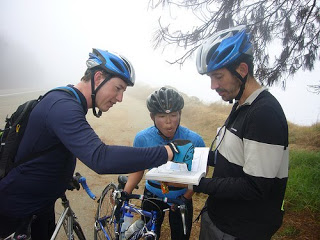 The last big climb of the day ended right at the San Luis Obispo county line, just in time for lunch!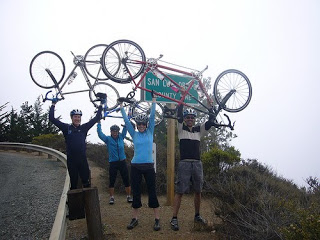 Once in the county, the hills disappeared and the sun came out. I love this stretch of coastline! Jackie proved her "Chizzle" nickname by setting at 18 mph+ pace all the way to the campground in San Simeon.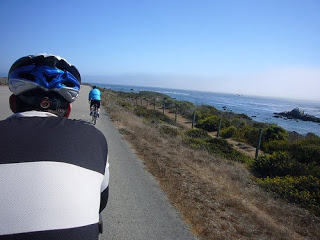 Thanks to our early start, we had time for hot showers, walks on the beach and a leisurely dinner in Cambria with the team before turning in on our penultimate day.