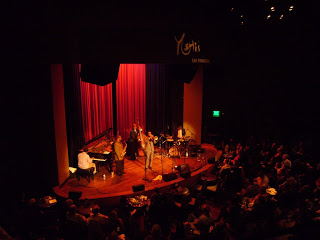 Weekend Round-Up: Arts, Bruises and Boxes
We're still wrapping up our move to the new apartment. The trouble is that we've learned that we can live perfectly well without everything that remains at the old place. Each day more stuff is donated and a couple more loads make it over here. How did we fit it all in that tiny place!?
Friday night, Rob and I went out with my new hire on the marketing team. First, dinner at Oola on Folsom (oh! those truffle fries!). Next, across town to sushi restaurant and jazz club, Yoshi's. We saw Roy Hargrove and Pharaoh Sanders. The encore was especially good and left everyone with their jaws on the floor. Back home by 10:30, exhausted.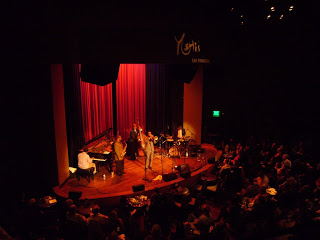 Saturday morning, up fairly early for more chores around the house. At 10:30, we drove over to the former apartment to pack up. We claimed an enormous old wood "hi-fi" cabinet at an estate sale nextdoor for $120. At 11:00, it was time to hop on the tandem for a quick ride with Corey and Cole. Through the mission, up Glenn Park, over Twin Peaks and back. It felt great to get some excercise, despite the cold weather. More moving in the afternoon. Margaret and Ferguson came up in the afternoon to help us move that big cabinet. Dinner at the Westfield that night, followed by tickets for Fantastic Mr. Fox – loved it! Back home for glasses of sciacchetra before calling it a night.
Sunday, more moving! We spent the morning calling to change addresses and ordering moving announcemnts in our pajamas. Rob and I made another trip to the old apartment to clean and pack. Lunch at our favorite mexican place in the neighborhood and then back home. I cleaned the closet and did a couple loads of laundry. In the afternoon, we decided to make an Ikea run to pick up that daybed.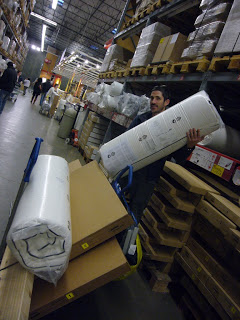 The enourmous, enourmous daybed that we then had to fit in our tiny car, drive across the bridge and haul into the apartment. Moving certainly is good exercise.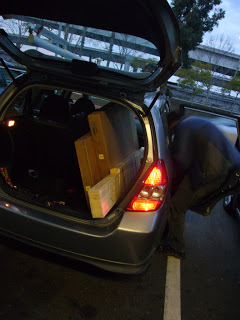 Poor Rob spent much of the night trying to decipher Swedish pictograms. We're getting there, though. I think we'll be entirely moved and mostly settled here by next weekend.