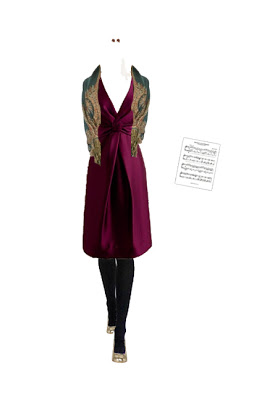 What to Wear: Singing at a Wedding
Here's a special request from Sarah in Canada:
I wonder if you may be able to help me? A friend/colleague has asked me to sing at her upcoming wedding, on 6 February. We live in Canada and I always wear a nice thick black tight with mostly any shoes.

My style is traditionally feminine and classic/almost retro, including lots of skirts. I also like signature or interesting pieces. I'm not makeup-y but really like to look ladylike. I'm about a size 6-8 these days, 5'5″ with a chin-length brown bob, fairish skin, green eyes and strong eyeglasses.

Also, we are Catholic, so modest for the church is appropriate – as well as understated as wedding guest is my cuppa tea. At other singing things I've worn a dress, but have you any expert advice that would be greatly appreciated?
A classically feminine pashmina is an inexpensive way to dress up for this wedding. Plus, you can wear it again with jeans and a sweater as a normal scarf.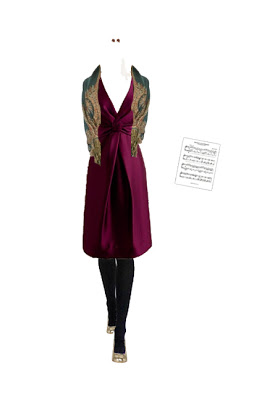 Dress – Shift dress on sale from J.Crew in spiced wine. This dress can be reused for winter parties or dressed up with sandals for the summer.
Pashmina – $25 for a whole lot of teal jacquard pashmina. The teals and golds will really pick up and the extra coverage is perfect for the church.
Shoes – Gold pumps kick up a pair of black tights.
Earrings – Vintage-inspired posts on sale from Anthropologie.
Yes, I am considering What to Wear requests again. But no promises! I'm still pretty swamped with work and the move.