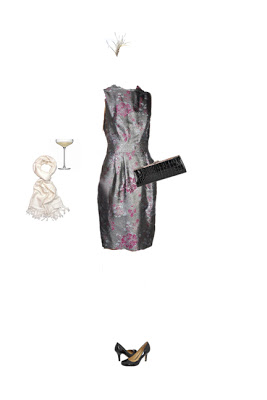 What to Wear: London Wedding
Here's a fun request from Mandy:
What to wear to a late September wedding in London? My brother-in-law is getting married in the afternoon at a church with a reception to follow at a classy hotel in Mayfair. I want to look chic and put-together, but not fussy or formal. I live in the country in New England, so my shopping options are limited and it's always so hard to figure out what to wear so I don't look like a country bumpkin in stylish, urban London
I love the way people dress up for weddings in England. Fancy details plus elaborate hats – all with a casual glamour and focus on structure. Here's my idea for Mandy: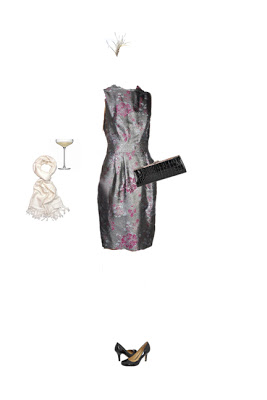 Dress – I don't usually post dresses this expensive, but in gray brocade with subtle purple peonies and a dropped back with a bow…this is exactly what you want to wear to the wedding at $460. There are probably other brocade sheath options a bit more reasonable, but maybe not as lovely.
Fascinator – A must, but doesn't need to be very flashy with this dress (flashy is an option). I couldn't find exactly what I was looking for online – basically just a few of these goose biots on a comb. If you're crafty, make it yourself with a bit of glue and ribbon. Otherwise, Etsy and Forever 21 have lots of options.
Clutch – In crocodile from Forever 21.
Shoes – Basic patent leather black pumps, with a heel that won't kill you on lawns or dancing late a night.
Pashmina – You might need a wrap for the church or running about town.
There you have it: one glam London outfit that won't entirely break the bank and with many elements that can be worn again. Have fun across the pond!