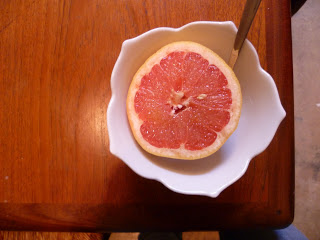 Pretty lazy this weekend. With the disaster news, storm rolling through town and a headache – it was nice to stay inside and rest.
Mellow Friday night. I swung by Rob's office to walk with him home from work. Dinner of broccoli, green olive and pepita pasta, my current favorite. Up early on Saturday morning for cereal, coffee and grapefruit while catching up on the earthquake news. Thankfully, our friends in Japan checked in to say they are fine.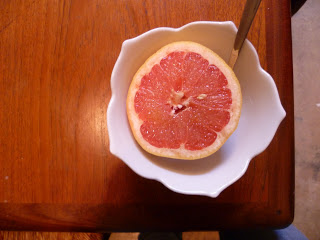 Out early to go hike at San Bruno Mountain, a few miles south of the city. What a pretty trail! And full of all kinds of wildflowers, which I'll share with you this week. We did a four mile loop.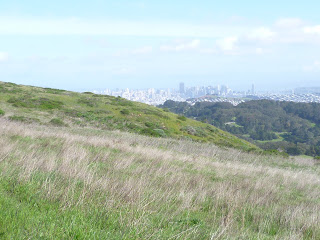 A few errands on the way home and ran into the St. Patrick's Day parade passing through our neighborhood. A big plate of nachos for lunch. In the afternoon, I went with Rob to his office to catch up on work for an hour.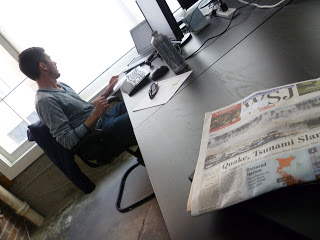 Left Rob at the office and grabbed a frozen yogurt on the walk home. Soaked in a hot bath with the week's New Yorker. I kicked off my Easter craft project in the afternoon. Ink all over the place! Rob came home and Margaret took the bus over. We walked downtown to see
Rango
with popcorn and Icees. I liked this film a lot, but wouldn't recommend it for kids.
Up late thanks to Daylight Savings on Sunday. Read the paper in bed and made a big breakfast of ham with fingerling potatoes topped with fried egg.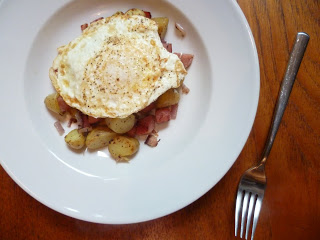 Rob taught me how to use our sewing machine after breakfast. Yes, he's the one in the house who knows how to tame the bobbin monster. I sewed up a bunch of my easter crafts, with marginally decent results.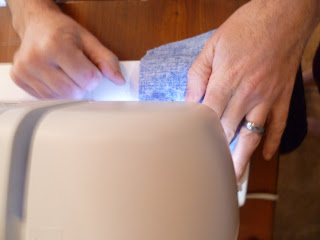 Out in the drizzling rain around lunch for some errands downtown. We stopped at the Boudin's at Macy's for lunch of clam chowder in sourdough breadbowls. Back home to exercise, sew more and get organized. I made grilled tofu over quinoa and giant artichokes for dinner.