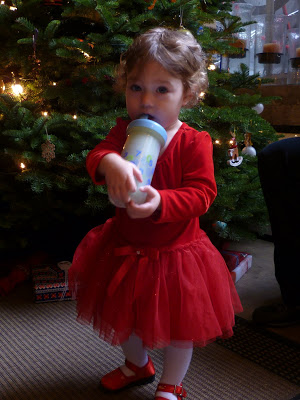 Party Recipe: Holiday Brunch
This is such an easy annual party. Even when sick, it's a breeze to put together a menu for 20+ guests. Even cute, tiny guests in velvet party dresses: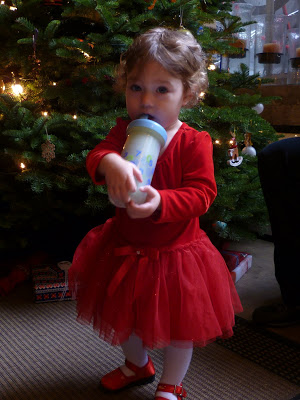 The menu this year consisted of our favorite local ham roasted in the oven for 5 hours, and served with truffle mustard, a giant smoked salmon from Trader Joe's with rye toast and cream cheese, savory bread pudding with mushrooms and arugula, pear and pomegranate salad and hot pain epi rolls from Acme bakery: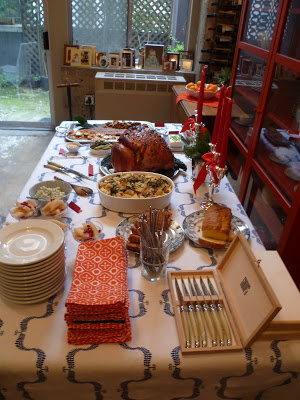 Guests arrived at 11:00, just as the food was coming out of the oven. Most everything was prepared the night before or only required a little bit of prep in the morning, so we had plenty of time to gussy up the house. Along with all the food, we served cranberry hibiscus mimosas, hot spiced cider and coffee. Rob and I dressed in our red and green finest!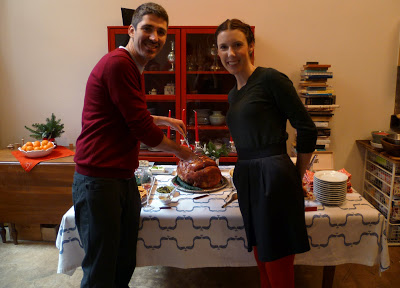 And our guests were perfectly decked out, too. How cute are Rebecca and Derek with those polka dots and that bow tie?! I love a couple that knows how to dress for an occasion.