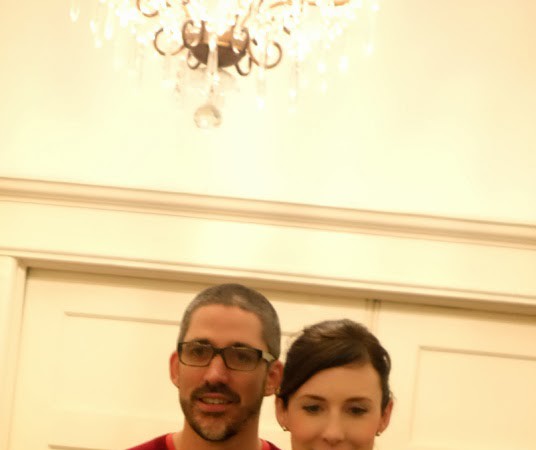 Weekends: Holiday Parties!
It really is Christmas with a weekend this packed with fun entertaining and events. Even San Francisco's classic crisp, clear winter weather showed up to the party!
On Friday, I returned home early to work on preparations for our brunch on Saturday. Margaret came over to help and together we chopped, cooked and polished up a storm. At 8:00, Rob and I dressed up and headed to our friends Jill and Peter's for their holiday party.
The event in Cole Valley included a massive tent in the yard as an extension of their already lovely home. They hire helpers from Task Rabbit each year to serve and pass appetizers – very smart!
At 11:30, I was wearing out and we bundled up for the walk back. A friend of ours at the party helped take this goofy photo of us being chased by a reindeer on the way out.
Fun to see all the beautiful Cole Valley homes decorated for the holidays on our walk back.
Up at 6:00 am on Saturday morning to get the ham in the oven…and then back to bed for an hour. I worked on preparing the savory bread pudding and the other dishes while Rob drove down to the bakery for a load of pan epi baguettes. He asked for so many that the cashier mistook him for a buyer from a local restaurant.
I had enough time left over to have a quick bath, paint my nails and make these cards before the guests began to arrive at 11:00.
Great party with lots of kids in festive holiday outfits and good friends I could stuff to the brim with tasty food and drinks. I'll do a separate recap of the brunch details later.
The last guests headed out at just after 4:00. Rob and I did a quick sweep to run a first batch in the dishwasher and then took a long nap. In the evening, we dressed up and took the train over to Bernal Heights for a party at Alison and Joel's brand new house. They're about to start the remodeling on the 1907 home – so decided to have their annual party in the empty space. We met Margaret and Sean there:
In the dining room – soon to be turned into a kitchen – they invited guests to draw holiday messages on a wall that will be torn down in a few weeks. Alison and Joe always throw great parties with strong drinks, delicious snacks and a chocolate fountain!
Rob and I took the train back home and crashed into bed after midnight.
I slept in a bit on Sunday – but not as much as I hoped. Read the paper in bed with tea and brunch leftovers. Met a colleague for a coffee down the street to talk about her career path. Another load of dishes and we headed out to Civic Center to meet a small group from Rob's Startup Bike club for a ride. We all took Bart together to Oakland to ride the three mile path along the new Bay Bridge.
It will be another couple years before they take down the old bridge and connect the path to Treasure Island.
After the ride, the group went to Beer Revolution in downtown Oakland. Great microbrews and burgers from Nation's Giant next door.
Everyone took Bart back to the city at 6:00. Rob and I passed City Hall, all lit up for the holidays and the Opera House being filled with families going to see the Nutcracker on the ride home.
I took a hot bath, cleaned up a bit more and got ready for the big week ahead.