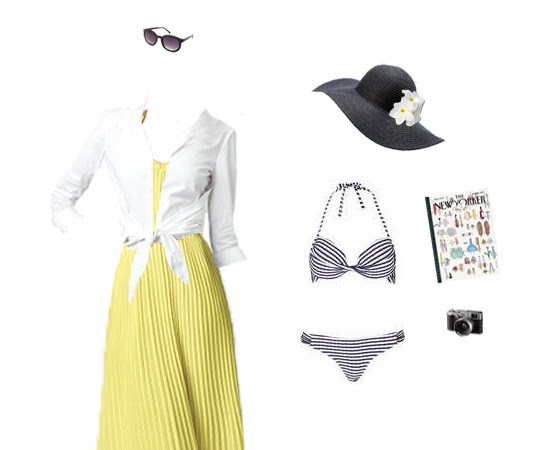 Hawaii is extremely casual. If you're a man wearing a t-shirt and shoes inside the grocery store instead of just cargo shorts, you've earned points for being well-dressed. Dressing nicely while on vacation on Maui is completely noncompulsory…but fun!
My tropical wardrobe consists of a handful of floaty maxi dresses with light shirts for layering. With my milk-white skin and toothpick thin arms, I'm most comfortable with breezy layers that cover me up and prevent sunburn. The light shirt can double on it's own as a simple coverup for walks on the beach. In a light or dark color, the shirt also helps hide those wet spots from throwing your outfit on over a damp bikini top. The colors of this outfit are inspired by Hawaii's yellow and white plumeria: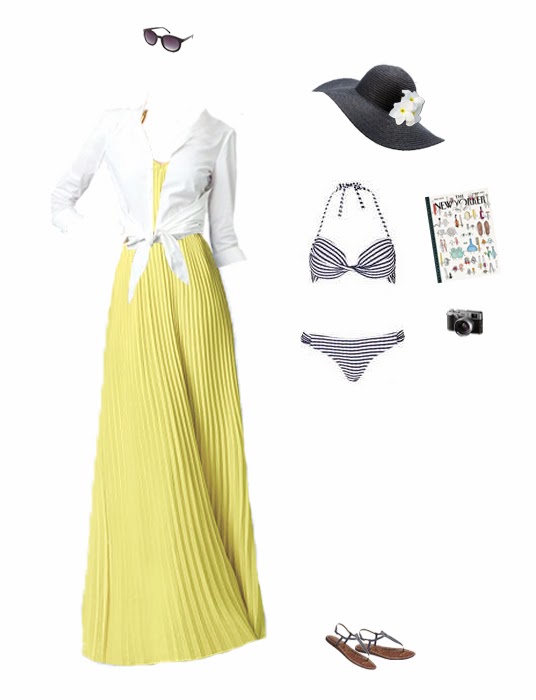 Dress – I'm not usually that into yellow, but this knife-pleat maxi dress on clearance sale at Victoria's Secret is so pretty!
Shirt – A lightweight camp shirt with tiny white polka dot detailing from JC Penney's, tied in front.
Sunglasses – A basic black pair from Forever 21.
Hat – Have I mentioned that I'm extremely pale? A big straw hat is a must-have.
Bikini – Vintage-style stripe bikini from TopShop.
Magazine – Sand-logged New Yorkers at the beach are a family tradition.
Camera – My poor camera has so much sand in it from the trip!
Sandals – Flat navy sandals from Nordstrom.