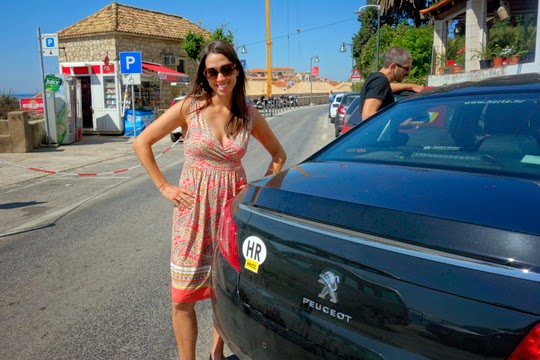 Driving the Dalmatian Coast: Dubrovnik to Split, Croatia
Our "transit" day over the weekend turned out to be a great adventure in its own right. We rented a car from Hertz outside of the old city in Dubrovnik. One way for a single day car rental was just about $50 with insurance. We were upgraded to a fancy Peugeot at pickup.
Getting out of Dubrovnik, with its tiny winding streets was the hardest part. Pretty soon we were jetting up along the northern coast. Bosnia has a few miles of coastline along the way. You don't have to go through passport checks to leave the Croatian side, but you do need it to get back in from Bosnia on the other end. Once you pass through, pretty farm stands start appearing along the side of the road. Honey, oranges, candied citrus peel, olive oil and wine. I bought a massive bag of pink dried fig…way too big for four people to eat in a week, but we're trying!
The Ploce valley below is a lush delta farm area full of olive groves and grape fields. There are little villages along the rivers.
The road takes you inland, past a series of small lakes.
When we popped back to the coast after the lakes, it was time to stop for lunch in the coastal town of Gradac.
Pizza at a friendly cafe right on the water. I was very tempted to swim but we needed to keep heading north. The route takes much longer than the Google prediction of four hours.
Those rocky mountains got even steeper as we continued up the coast.
Finally, we couldn't take it anymore and had to stop for a swim. We pulled over in Medici and walked down to this pristine beach.
Rob and I swam up and down the length of the bay and spied on tiny shrimp living on that boulder in the water. Dried off while reading the New Yorker in the afternoon sun.
It was just another hour north from here to Split, through the cute town of Omis.
The whole journey took us about six hours, with a couple stops along the way. A beautiful way to see Croatia off the beaten track!