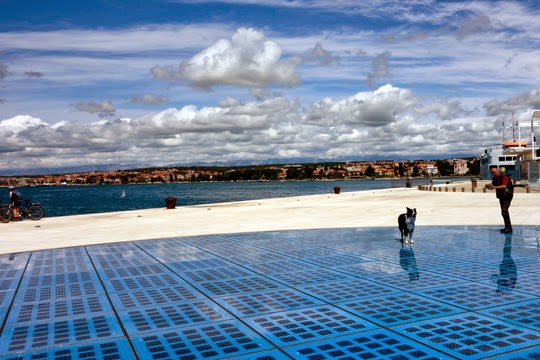 What to See, Eat and Swim for a Day in Zadar, Croatia.
Zadar was the perfect place to end our stay in Croatia. It's a beach-front town smaller than Split and less touristy than Dubrovnik. Seemed like the Santa Barbara equivalent. The big storm was finally clearing out and we had one last sunny day.
We arrived at night after our drive from Zagreb. The walk down from our apartment at Villa Vanilla to town took about 20 minutes. There's a modern bridge that connects the peninsula of the old walled city to the north part of town.
It was Saturday night, so we went out for dinner and drinks with the locals. Big plates of seafood risotto, grilled fish and polenta. Had a great time listening to a traditional Croatian klapa (a capella) group singing in an open courtyard.
The next morning, we set out to explore. The old walled town has a distinctly Italian feel.
Lots of small green parks tucked away.
We spent the lazy Sunday walking through the town and then strolling the embarcadero and its impressive wave organ.
Stopped in at the Archeology Museum in town next to the Roman ruins.
Casual lunch of a cevapi from a grill stand. The traditional Croatian "burger" is made with grilled sausage, tomato, pickle, onion, lettuce and a herbed sour cream sauce.
Hiked around the city wall and down to a tiny beach called Kolvare.
All kinds of seaweed and shells had washed up from the big storm. Great for beach-combing. I took a short video of my toes in the waves.
Then back home with cones of gelato. We needed to pack, run errands and get a minute by the pool.
In the evening, we took our rental car out to get drinks on the beach at Plaža Borik just north of town.
Big bottle of nice Croatian white wine in an ice bucket while we watched the sunset over the Adriatic.
Finally, our last (and best!) meal of our trip to Croatia at the Niko Restaurant and Hotel in Puntamika. This is one of those 1960's seaside restaurants that I just love. Amazing waiter, incredible meal full of smoked tuna carpaccio, brined anchovies, octopus salad, grilled sea bass, mussels and risotto, all delivered on a silver cart. After our dessert and espressos, the waiter put on a show for us by feeding the resident four foot long moray eel pieces of squid in her tank. We headed home with full bellies and sad hearts to be leaving Croatia.