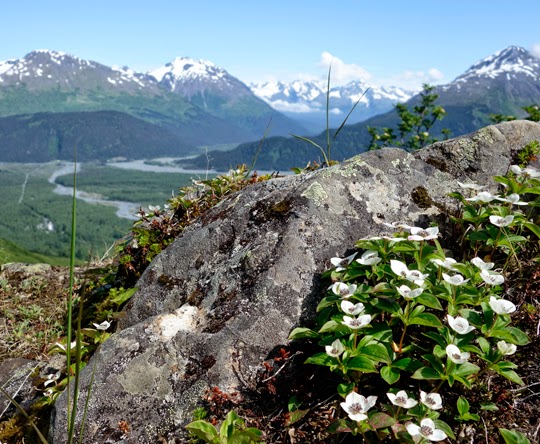 Alaska by RV: What to See, Eat, Explore and Wear for a 2 Week Summer Adventure
Alaska…there's a reason they call it "The Last Frontier." With 22 hours of functional daylight in the summer, mosquitos, bears and the shaky internet access you fondly remember from 1997, Alaska is not for the faint of heart. It is, however, a gorgeous place to get far off the beaten track, to hike, to gawk at whales and to eat your weight in salmon.
Basics
We flew in to Anchorage airport on Alaskan Airlines at the end of June for our 14 day stay. Loaded up on maps and guides at the airport tourism desk – which turned out to be super helpful since we had no internet. Our rented RV – a bit larger than we needed (pro tip: book your RV more than 6 months ahead) – had the full accessories package. There's essentially one road in Alaska, so it isn't too hard to avoid getting lost and to find last-minute RV parking along the way. RV parking ranged for $20 to $45 a night.  We cooked most of our meals in the RV – which was fun and budget-friendly. Alaskan produce can be hard to find and expensive. Stock up at Carr's (Safeway). Look for locally grown potatoes and cabbage along with smoked salmon and reindeer sausage.
Route
We stayed in Anchorage our first day, before driving to Willow, Talkeetna and Healey, Denali National Park, for the northern part of our trip. From Healey, we had a long day of driving (which the 22 hours of daylight helps with nicely) down to stay at Bird Creek south of Anchorage. Then, on to Seward, Hope and Girdwood for the southern section. We had originally planned to see Homer and Kenai, but the extra hours of driving became less appealing toward the end of our trip. Gas for the trip added up to around $400.
Must-See North of Anchorage
Talkeetna is an adorable touristy town with nice restaurants, bars and cafes. Walk down to the river for a breathtaking view of Mt. McKinley.  Seems like a good launch point for a guided rafting tour.
Spend a day hiking and wildlife/wildflower spotting at Denali National Park – in any kind of weather.
Load up on German food and microbrewed beer with the locals at 49th State Brewery in Healey.
Make an overnight stop in scenic Willow.
Hike around Byers Lake at Denali State Park.
The new Anchorage museum has a lovely collection of native and contemporary art. Nice gift shop and cafes too.
Snow City's crab cake eggs benedict are not to be missed.
Get the hearty (and boozy) bread pudding with a pitcher of local beer at Humpy's.
Reindeer sausage from one of the vendors in the heart of town is a delicious and cheap dinner.
Check out Raven's Roost and Katie Sevigny Studio downtown for unique locally-made  souvenirs like inexpensive birch baskets.
It's worth taking a second to watch bush planes take off from Merrill Airfield on your way north out of town. This is one of the busiest private airports in the US.
Must-See South of Anchorage
Packing
A high quality sleep-mask is the difference between a lovely restful summer vacation in Alaska and a brief dip toward insanity. The daylight really starts to mess with your body's clock. Alaska is VERY casual. Having a few good warm sporty outfits for hiking, a good quality rain jacket, lots of socks and layers is key. I was a little torn between bringing Hunter rain boots and cowboy boots, maybe decide based on the weather forecast. Here's the original Alaskan packing guide for reference.


Pro-tips
If you're hiking, you'll need to stock up on bear spray at Cabela's. It's expensive at $60 and you're not likely to use it – but better safe than being chewed on by a grizzly. Bug spray is also nice to have, although the mosquitos didn't bother us too much thanks to mostly being by the coast or in the rain.  No need for one of those mosquito net hats. Espresso is much more prevalent than internet access, check out public libraries to get connected and download maps on your phone.