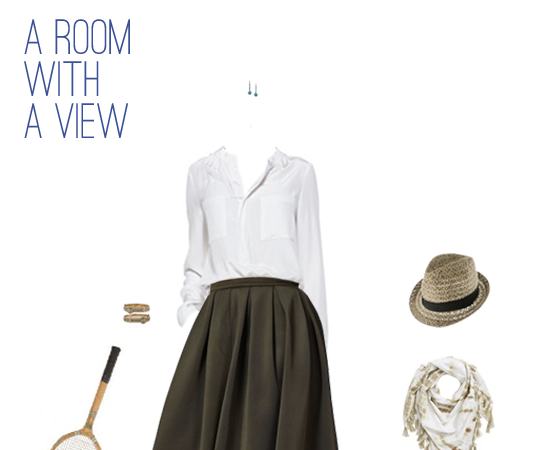 What to Wear: A Room With a View Inspired
The 1985 Merchant Ivory version of A Room with a View is one of my all-time favorite movies. Helena Bonham Carter is so lovely as the moody Lucy. And all those gorgeous settings in Italy and "Windy Corner." This outfit is inspired by the movie without being too costume-y. Perfect for a warm fall weekend in San Francisco.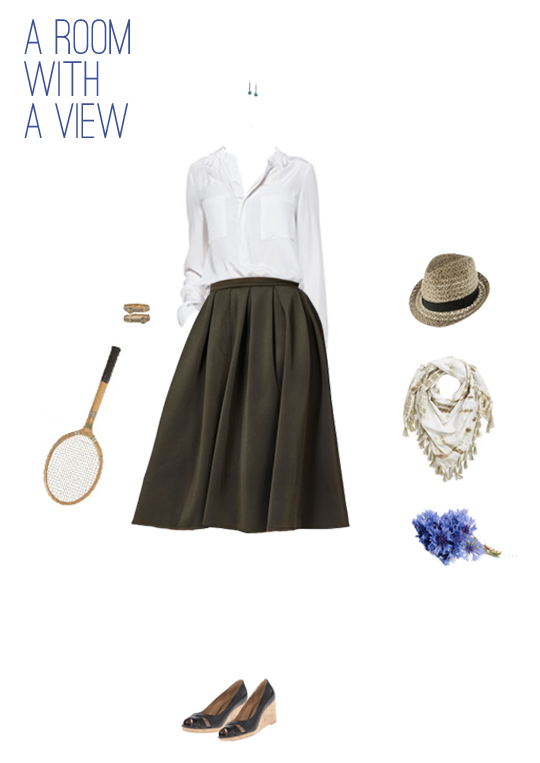 Blouse – A white cotton blouse that is romantic with the tiniest bit of Victorian-style in the way it pleats a bit at the collar.
Skirt – Not quite a full-length Victorian skirt with bustle, but this modern midi skirt in khaki is lovely and full with a high-cut waist.
Shoes – Black wedges are ready for your picnic in the hills above Florence.
Earrings – Victorian turquoise drop earrings from my favorite estate jewelry store in San Francisco
Hat – A classic little straw hat to perch on top of loose, wavy romantic hair.
Scarf – Add a little flouncy beige and ivory scarf with tassel detailing.
Bracelets – A pair of gold Victorian buckle bracelets from Lang Jewelry.
Accessories – A bundle of cornflowers and a vintage lawn tennis racquet.