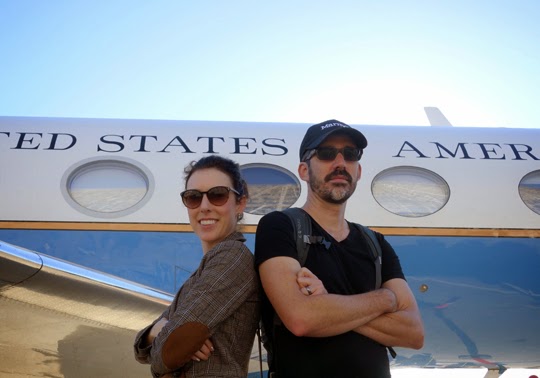 What to Wear: Touring NASA Ames
It's October in the Bay Area. All the fun outdoor events are scheduled for these few warm, sunny weekends. Fleet Week, Hardly Strictly Bluegrass, the Treasure Island Music Festival and, for the first time in 17 years, an open house event at the NASA Ames Research Center.
I wore white Levi's skinny jeans, a J. Crew camel sweater with zipper details, a light plaid blazer, J. Crew metallic suede loafers (which were not comfortable enough for all the walking), a silver belt and a Coach cross-body bag.
Rob and I woke up before dawn to take BART to meet Trent and Ev in Burlingame. We arrived right before the gates opened and still faced a massive traffic jam. Worth it!
We got to see all kinds of planes, helicopters, robots, wind tunnels, etc while walking around the research campus and talking to scientists. There was even a Mars rover:
My arms are sore from carrying around Ev – who alternated being very into the planes and very bored by the whole thing.