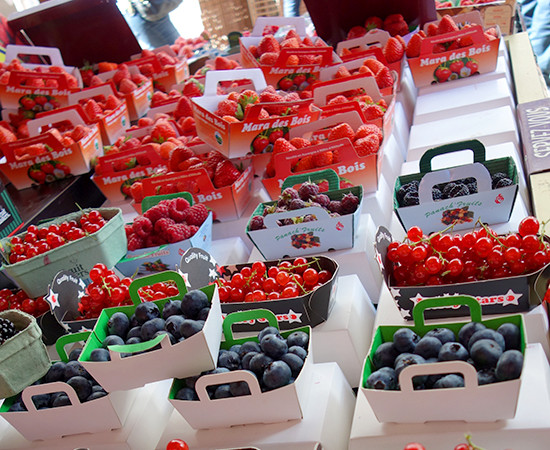 Paris Picnic No. 2: Sunday at Sacre Coeur & the Antique Market
Rob and I headed north for our second day in Paris. After a lazy Sunday morning, we packed up a picnic in Rob's backpack and headed down the narrow, very French stairs of our 100-year old apartment building.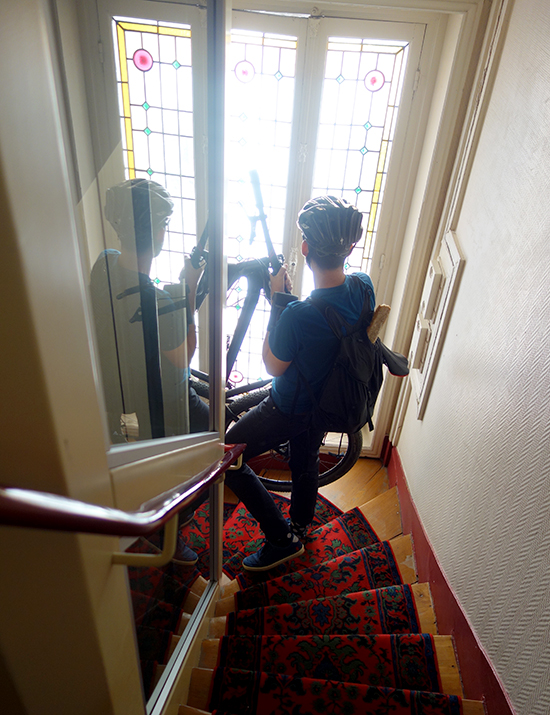 It was market day on our neighborhood's main street, Rue Daguerre. A lot of beautiful produce and meats being taken very, very seriously (with the prices to match). We shopped for a couple more things to take for the picnic lunch.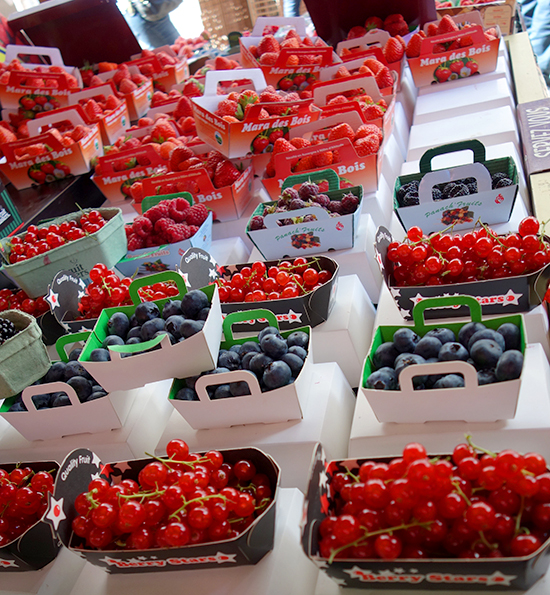 In case there was any doubt about being in France, a unicyclist with a pencil mustache rode past playing accordion before stopping to get a pastry and talk to a florist.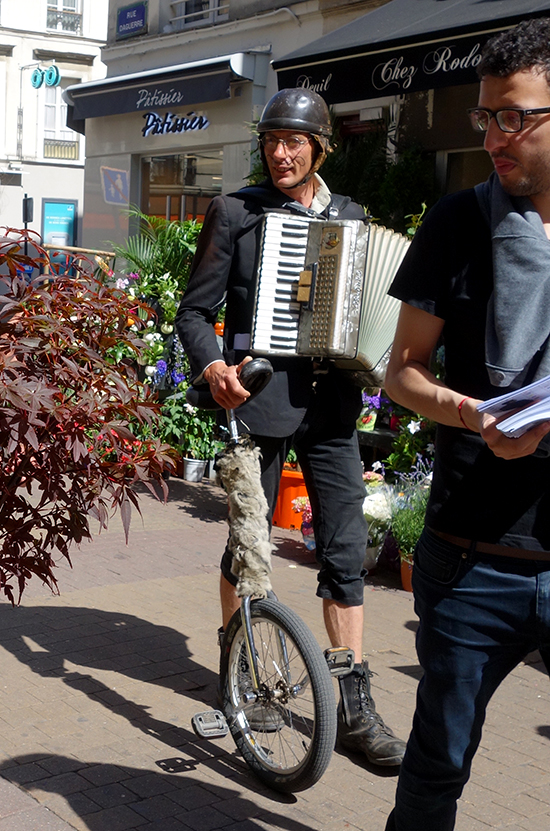 Rob rode off on his bike and I took the train to meet up in Montmartre for a picnic at the Sacre Coeur. I've usually visited Paris in the depths of winter. It felt strange to see what I think of as "moody Montmartre" all bright and sunny and packed with tourists.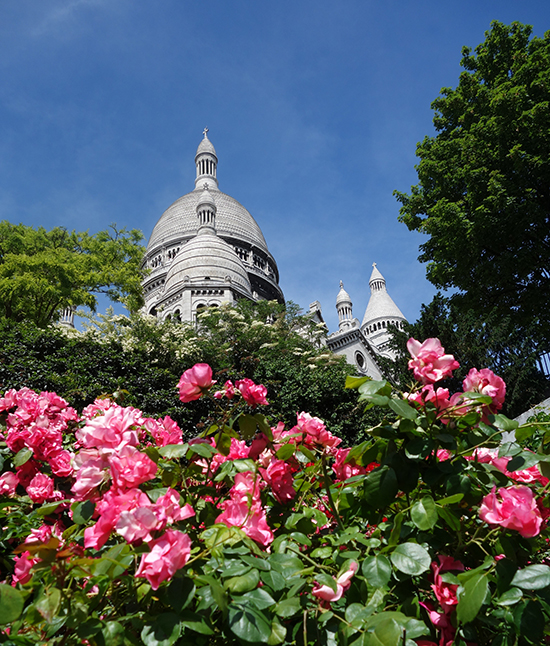 Rob and I popped into Sacre Coeur to light a candle and admire the mosaics. It was SO crowded with visitors.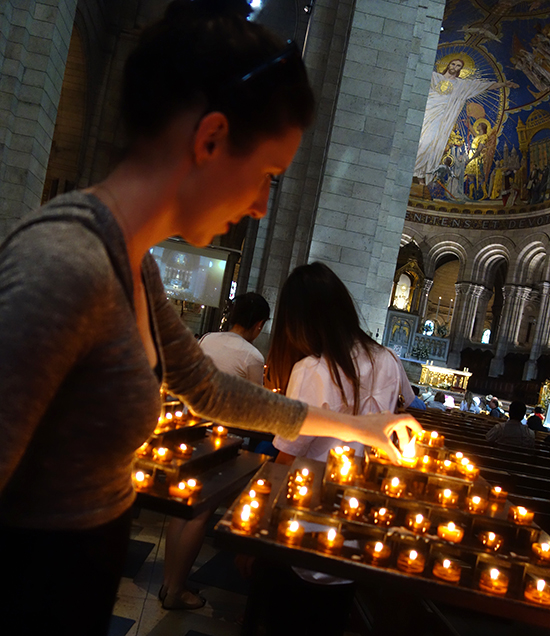 Picked a spot on the lawn overlooking Paris for picnic No. 2. The paprika goat cheese made a re-appearance, along with salami, seeded baguette, cherries, tomatoes, olive oil, garlic, salt and a half bottle of white wine. Rob prepared the famous Barcelona "pan con tomate" for our main course.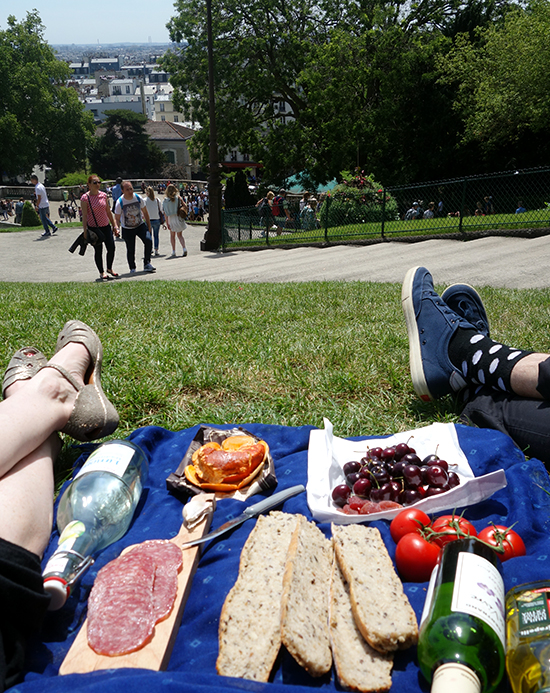 Cheers for Paris picnic No. 2!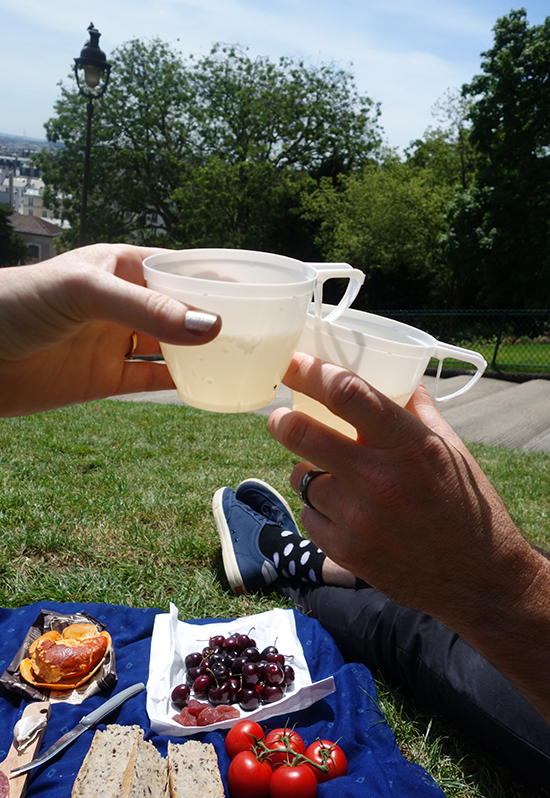 We were far from the only people to have a Sunday picnic at Sacre Coeur on our agenda! This was the United Nations of Paris picnicking.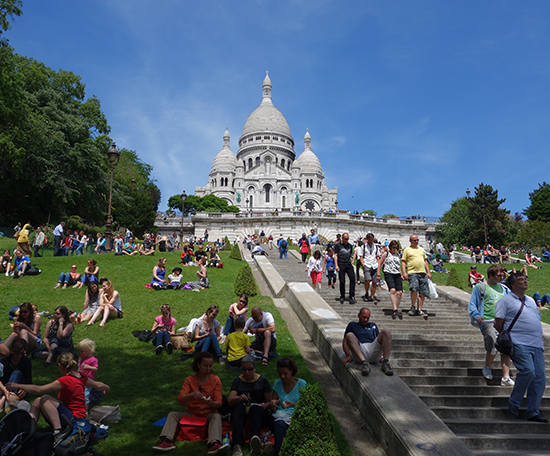 After lunch, we walked through Montmartre and over to the Les Puces de Saint-Ouen Market, the largest flea market in the world. My friend Jordan's instructions on how to get there are super helpful. You need to pass through a bunch of cheesy vendors to find the hidden gem of the old antique market in the center.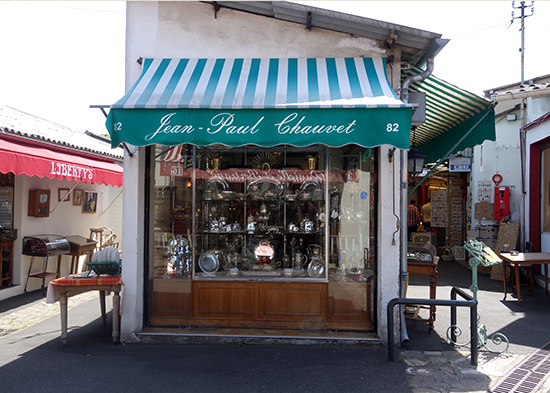 There was a live jazz festival happening in Les Puces that weekend and many of the vendors had put out snacks and fresh fruit for the Sunday visitors. The music added so much to the atmosphere of the market!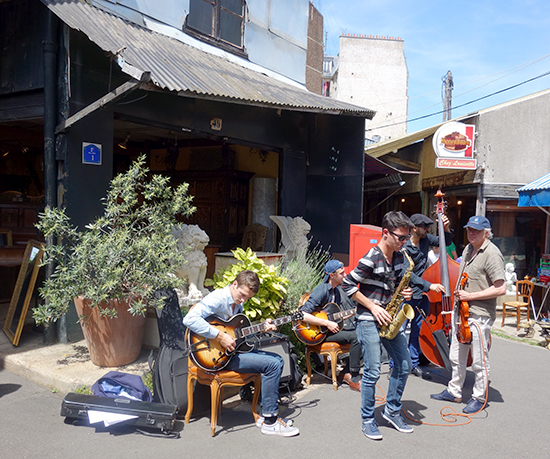 A couple of the antique dealers had pulled a table into an alleyway and gathered for a late lunch with roast chicken, champagne and fancy cold salads.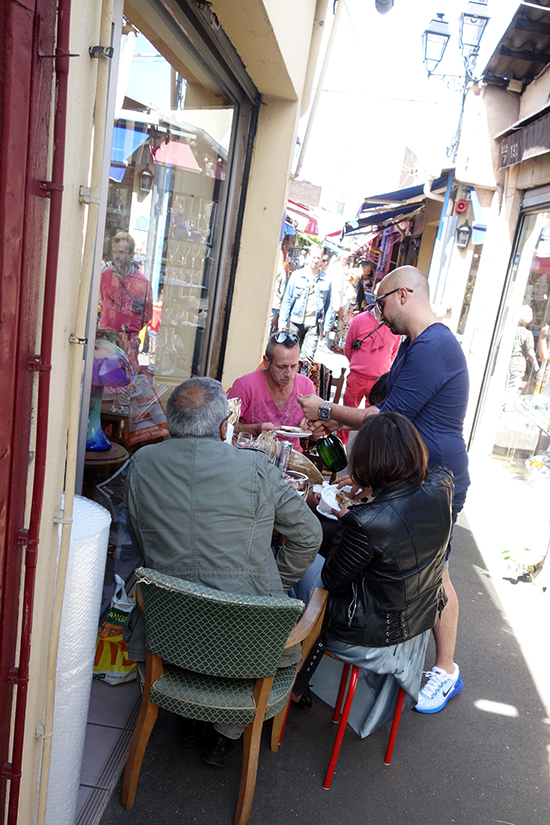 I picked up an inexpensive silver plate creamer for 10 euros and we picked up a pretty brass cabinet fitting to use as our souvenir Christmas ornament from Paris.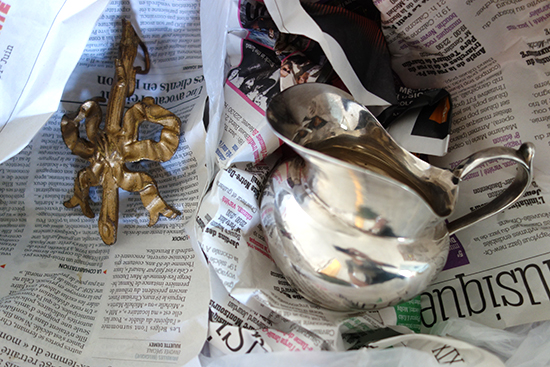 Stopped for Orangina at a cafe by the market. At the table next to us, British tourists were wrapping a weekend trip with beers and a ukulele sing-along. Festive and a little embarrassing! Back home by bike and train in the late afternoon. We took a couple hours to rest – it had been hot out at the antique market and we were starting to learn that Rob is allergic to all the tree and flower pollen in the Paris.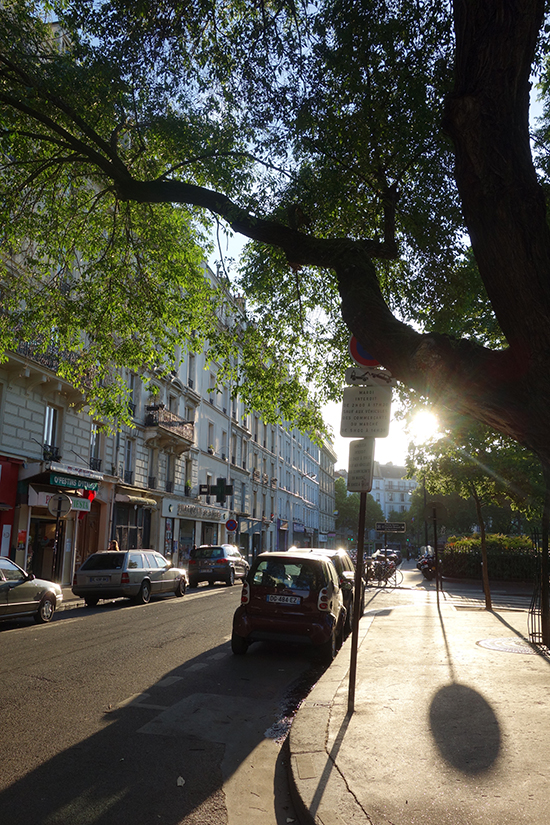 Rob and I decided to splurge on a Sunday dinner at a nice little neighborhood restaurant around the corner called A Mi Chemin. Coincidentally, it was a French Moroccan fusion place! We had a very friendly waiter named Nelson who comped us bowls of fresh gazpacho with grapefruit sorbet for our starter. "Pamplemousse" (grapefruit) is one of my all-time favorite French words.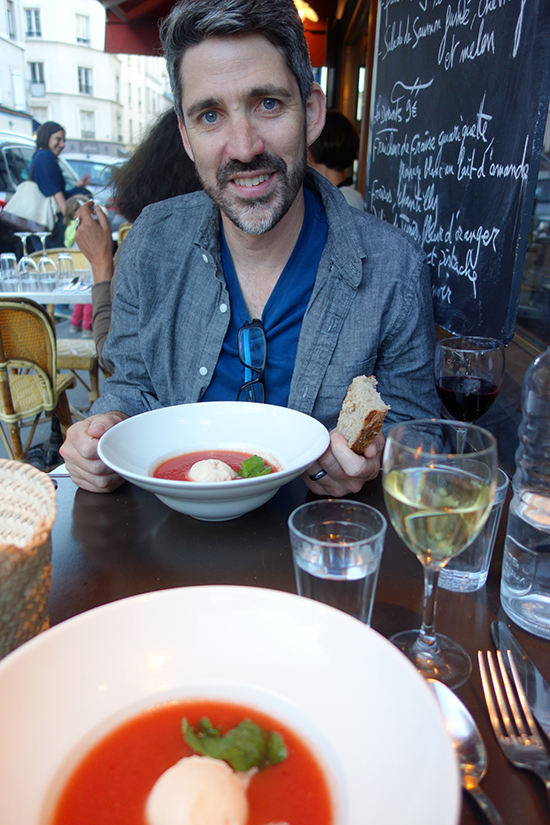 Rob had a nice salad with house smoked salmon, goat cheese and melon and I had a crispy crepe filled with white fish, herbs and potatoes. It was all delicious and we were delighted to have found such a kind French waiter. While we ate, more locals came and filled up the sidewalk tables around us.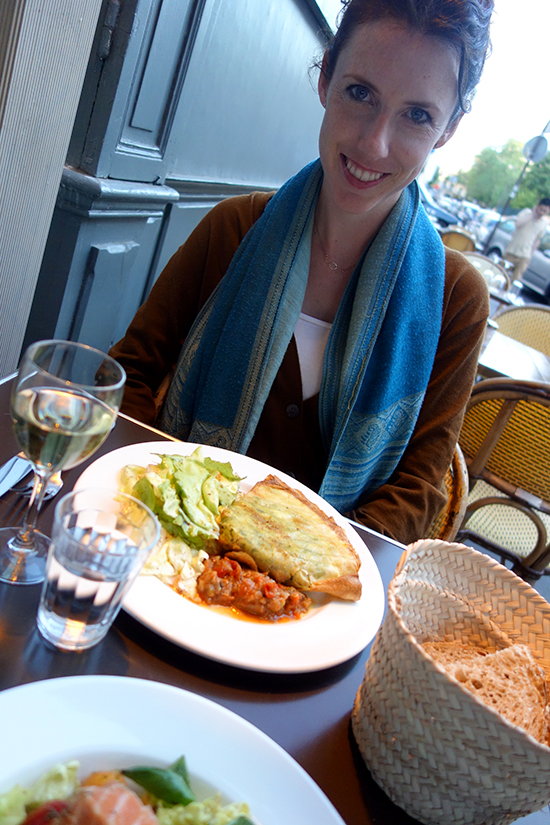 Dessert of a fondant cake topped with sage ice cream, coffee and chocolate truffles. It was a perfect meal. We headed back around the corner to our quiet Paris apartment just as the sun was finally setting at 10:30 pm.