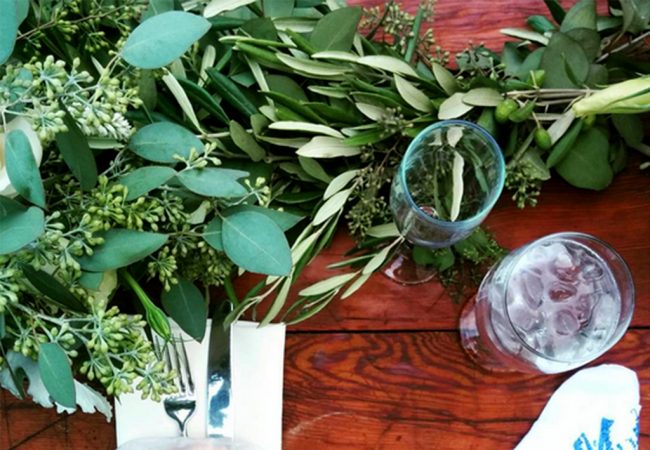 DIY Wedding Flowers with Olive Branches, Eucalyptus, Roses & Dahlias
Doing the flowers for my friends' weddings is a joy! It's so fun to go to the Wholesale Flower Mart – pick out the best of everything and make something beautiful together that will last in their wedding photos forever. Margaret had a vision for her wedding that started with a whole bunch of olive branches and lots of romantic Pinterest inspiration.  Jackie and I went to the flower market early Friday morning and loaded up on supplies. Incredibly, we made all the flowers and bouquets for this wedding for about $300.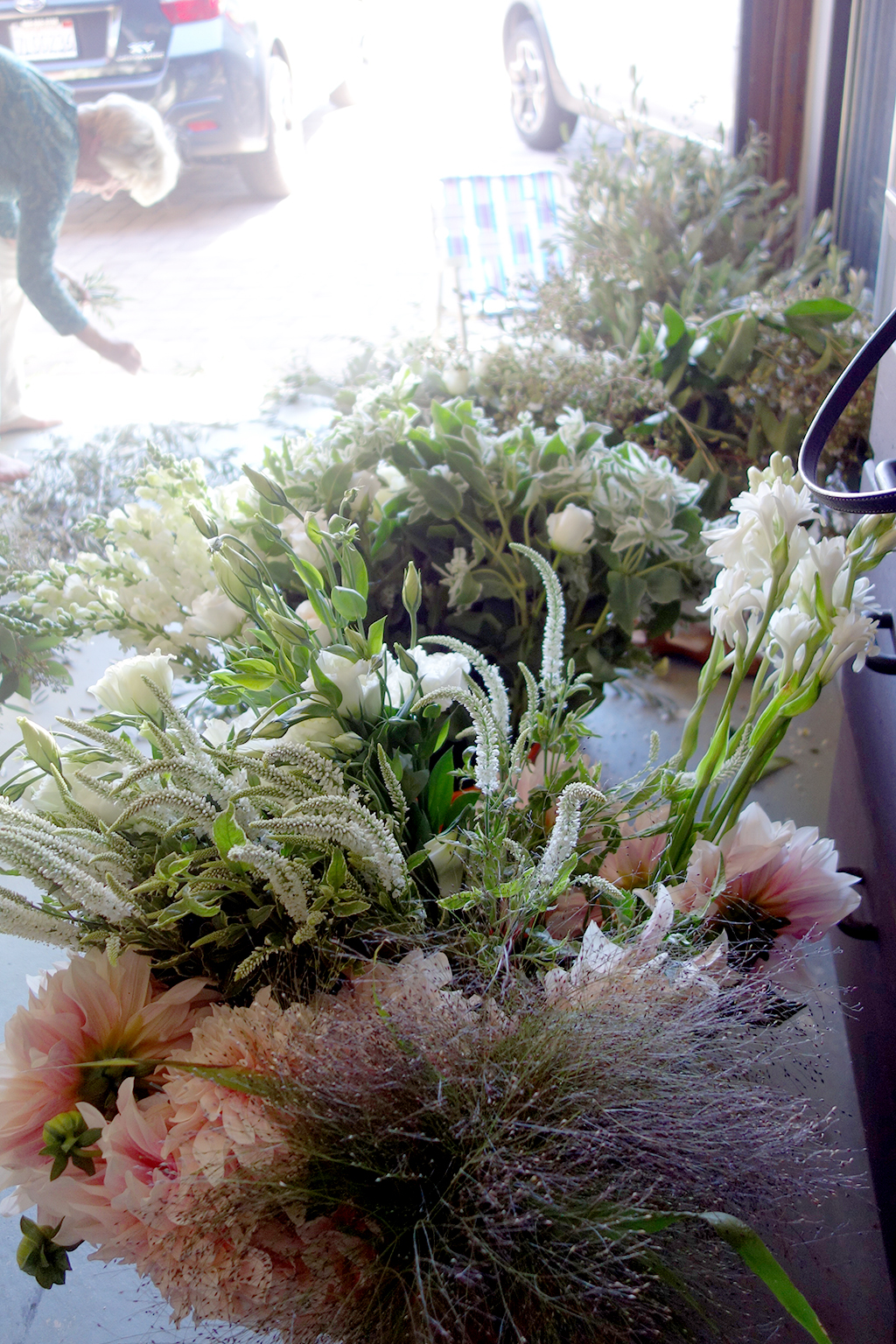 The supplies: 
10 bunches of tall olive branches
10 bunches of short olive branches, with olives
7 bunches of seeded round eucalyptus
2 dozen large white Tibet roses
2 dozen small white & blush Akito roses
2 bunches of cafe au lait dahlias
2 bunches of white lisianthus
2 bunches of white veronica
1 bunch of explosion grass
1 bunch of white snapdragons
1 bunch of some variegated white and green foliage
1 bunch of "Dusty Miller" silver chrysanthemum leaves
1 bunch of tuberose
1 bunch of white sweetpeas, out of season but very, very special and sentimental
Floral wire, clippers and two cement urns.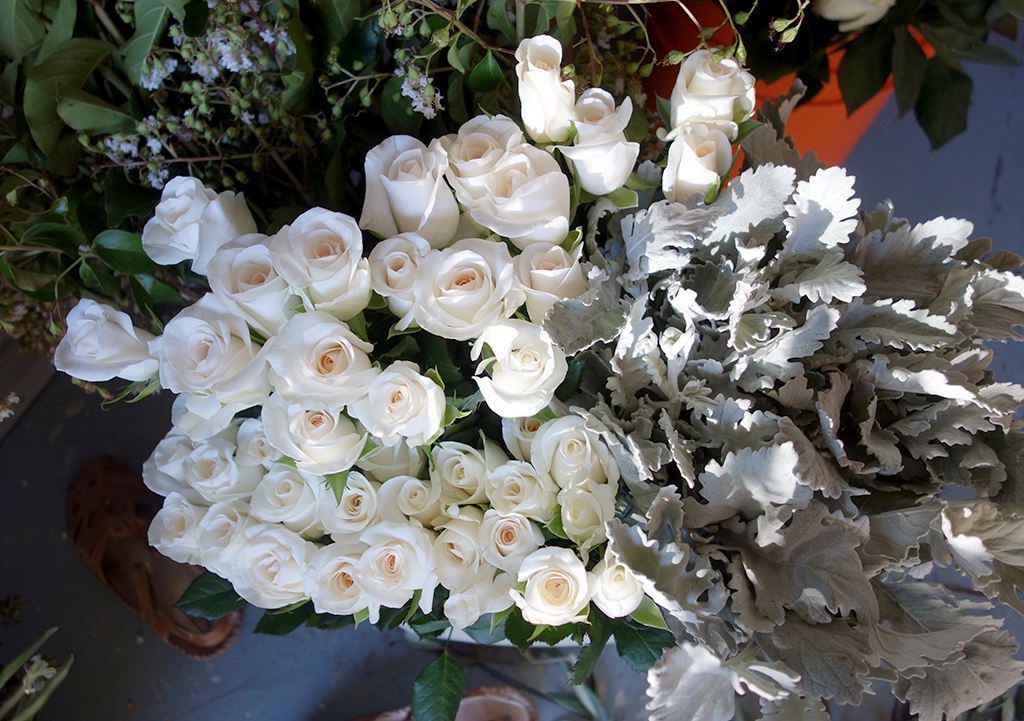 Mom & Jackie helped with the massive work of processing all those roses and branches. We started by making wired bundles of olive and eucalyptus branches that would go – four to a table – on the wood tables at the reception. The next day, I made the bouquets in the morning and then "tailgated at the venue to use the rest of the flowers for two massive urn arrangements and three olive branch wreaths.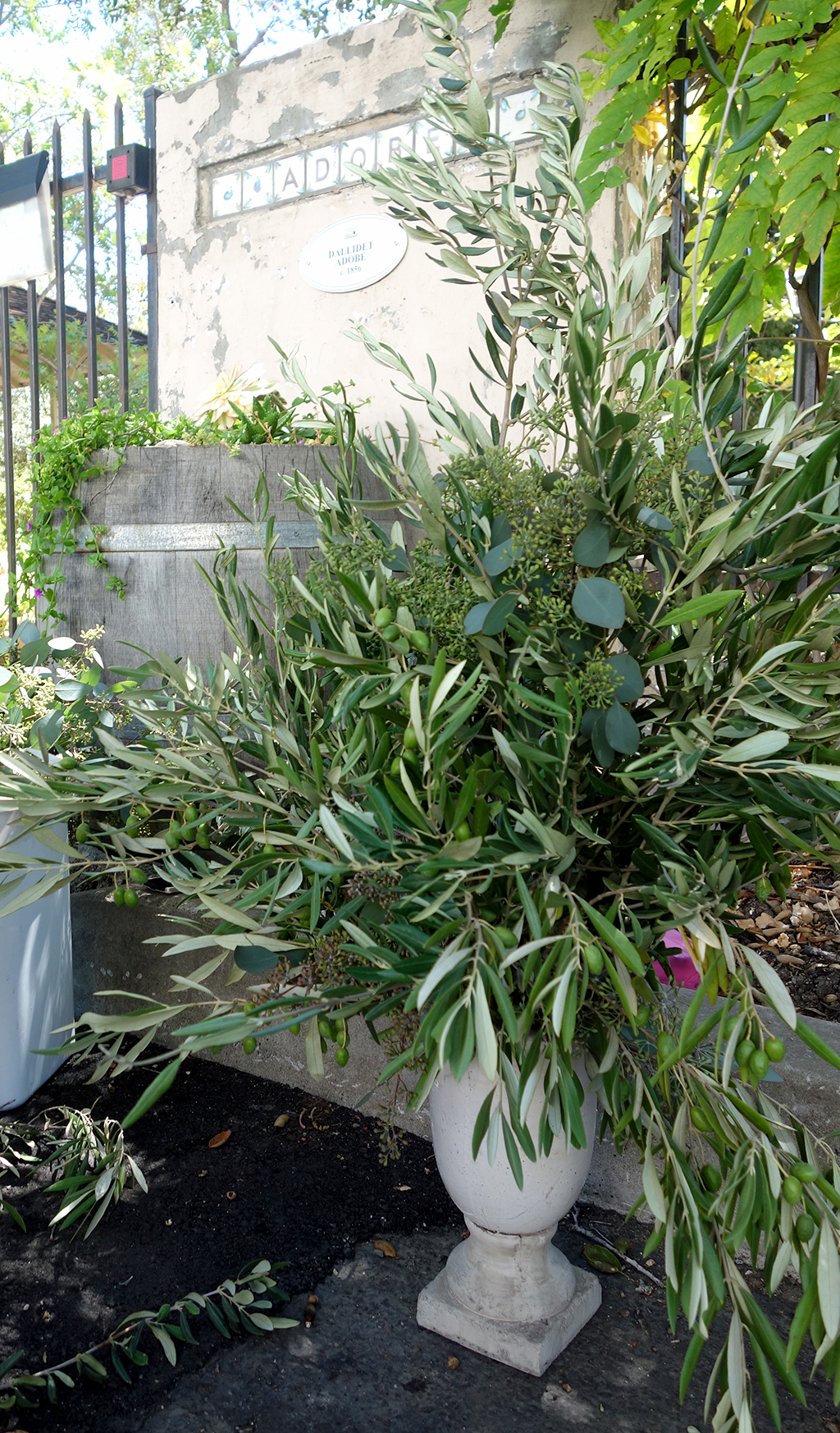 There aren't many official photos of how pretty the centerpieces came out on the tables. The four bundles of greenery on each table looked lush and full and weathered the hot day in the sun with no water without issue.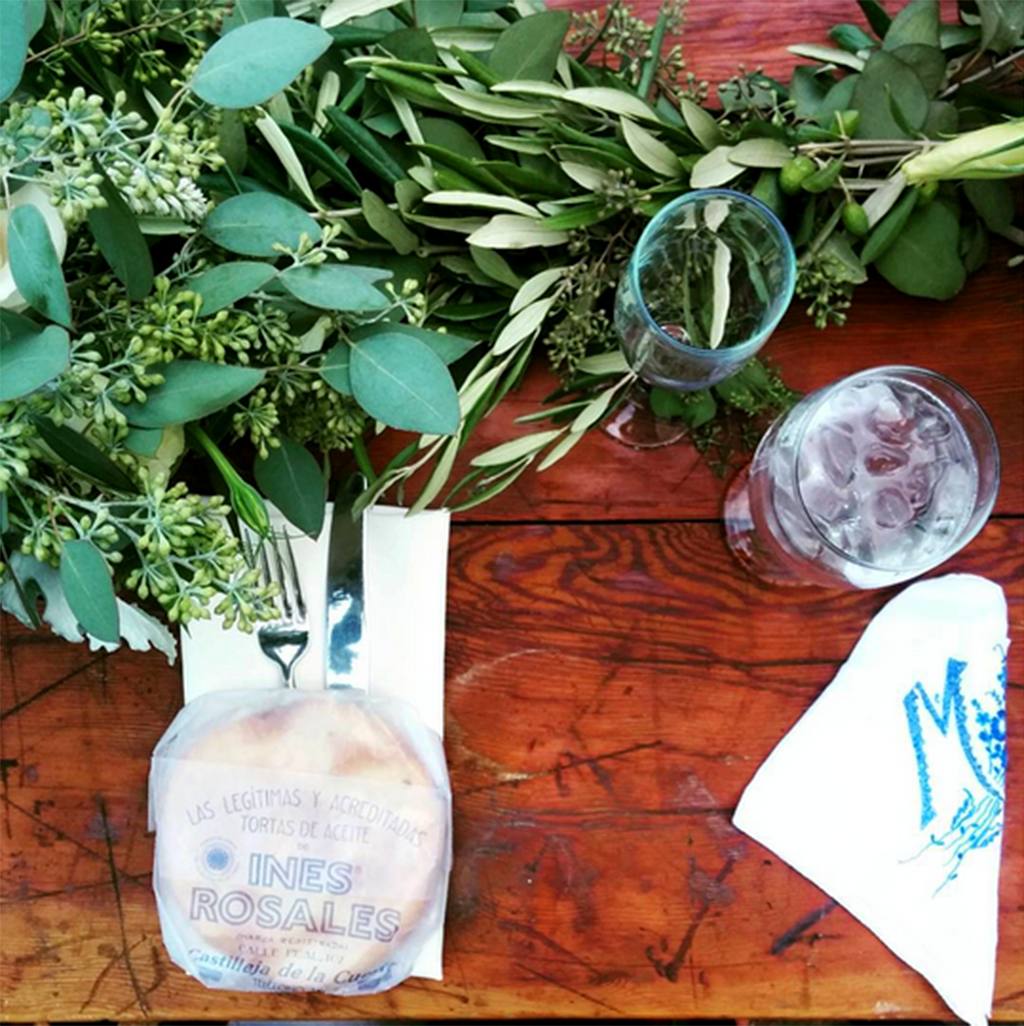 Margaret's bouquets featured two big dahlias, lots of roses and hidden sentimental sweet peas. The bridesmaid bouquets were a bit smaller, with one big dahlia. They all had tuberose tucked in for extra fragrance.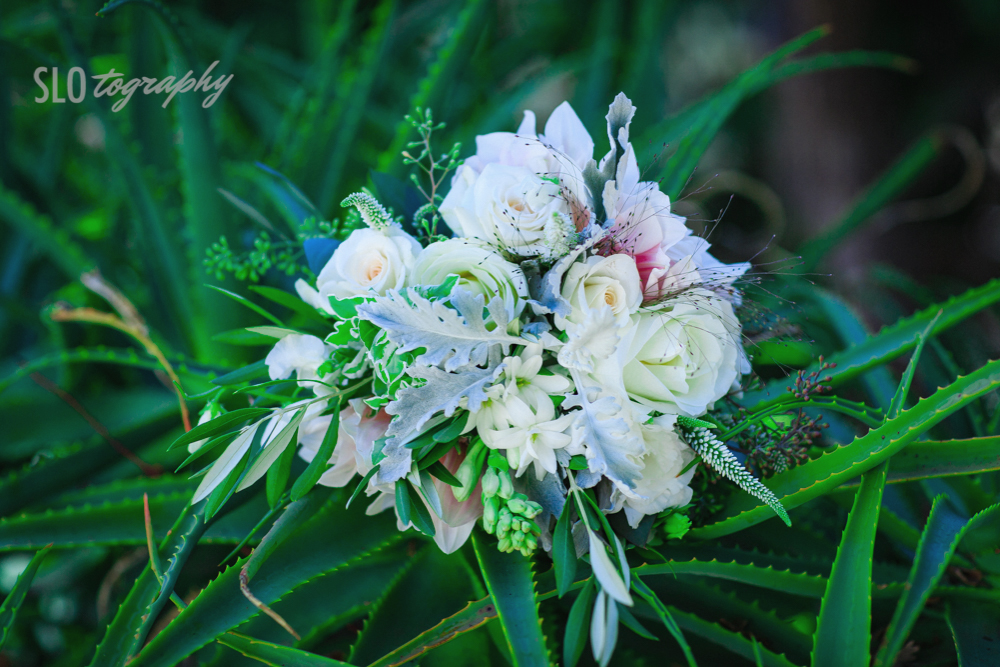 The bouquets also did well in the heat – with the exception of those giant gorgeous dahlias that just couldn't take the hot weather for more than an hour.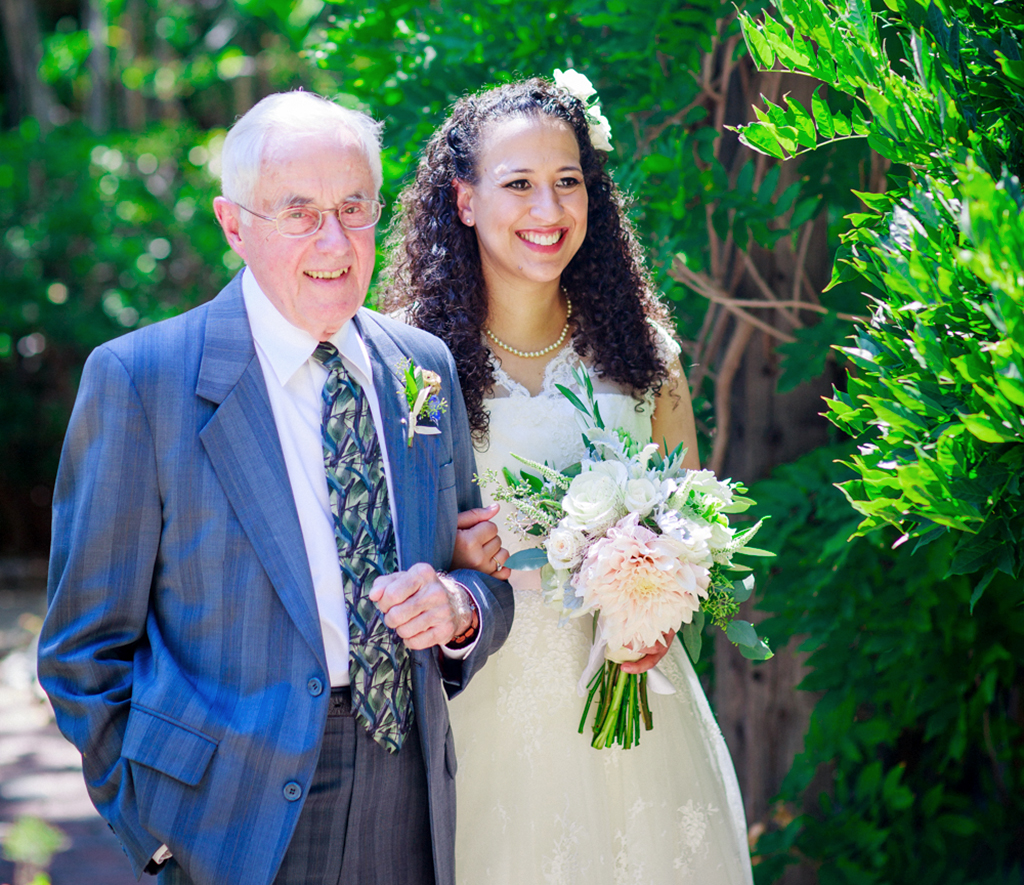 The little olive wreaths for the flower girl and ring bearer were so cute too!