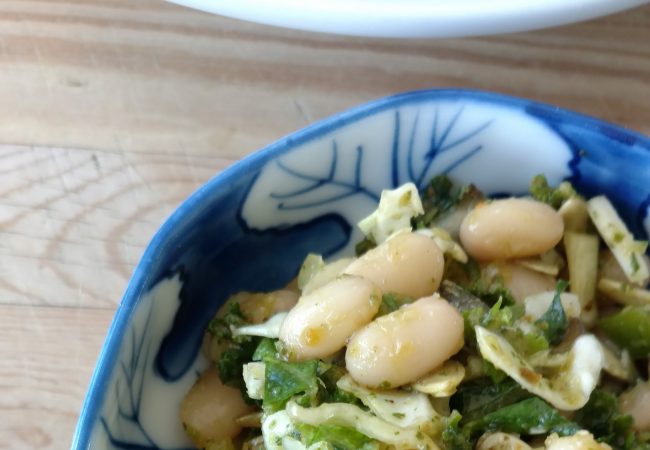 I improvised this salad for a beach picnic with the babies, my sister and cousin out in Pescadero last weekend. Flavorful, very healthy and even incidentally vegan – this recipe makes a huge quantity with plenty of leftovers to turn into quesadillas, nachos or taco salads throughout the week. The poblano gives it a nice kick and the cabbage a satisfying crunch.
Poblano White Bean Salad
1/2 lb dried white or pinto beans (can swap for canned if desired)
2 cups chopped green cabbage
2 cups chopped kale
1 diced green bell pepper
1 diced wax pepper (or yellow bell pepper)
1 cup raw pepitas
Dressing:
1 poblano pepper
3 cloves garlic
1/2 cup cilantro, packed
1 wax pepper, seeds and stem removed
Juice from 1 lime
1 tablespoon olive oil
Salt and chili powder to taste
Cook the dried beans in a large pot of water for 90 minutes, with no salt. (no need to soak overnight). While the beans cook, chop your other salad ingredients and prepare the dressing.
Roast the poblano pepper over a gas burner until blackened on the outside. You can also use the broiler for this but it is slower. Put the hot roasted pepper in a sealed plastic bag to help the steam loosen the pepper's skin.
Add your garlic, cilantro, wax pepper, lime juice, olive oil and spices to a blender or food processor. Remove the poblano from the plastic bag and rub off the burnt skin. Remove the stem and add the roasted pepper to the blender. Mix until it reaches a pesto-like consistency. Taste and season as needed – it should be a bit spicy.
Drain the now cooked beans and add them, still warm, on top of the chopped cabbage, kale, peppers and pepitas in a large bowl. Mix in the dressing and refrigerate overnight or until cold before serving.