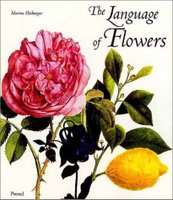 To Do: Read "Secret Language of Flowers"
When I was a teenager, I volunteered as a docent at a historical Victorian home. Unfortunately, it wasn't a very popular tourist destination and most of my days were filled with dusting, reading through the home's library and going through the drawers. One book that I remember reading, was the original edition of "The Secret Language of Flowers." How very Victorian to decode the different meanings of carnations and crocuses!
It's been a while and all I can remember from that book is that yellow roses mean "deceit," not "friendship" as ProFlowers would have you believe. Before I accidentally send someone a bouquet of hate, I should buy a book online. I am having trouble finding one that is actual accurate and historical instead of just coffee table fluff, however. Any suggestions?