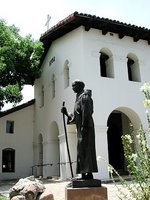 Rob and I spent the weekend in San Luis Obispo. Our hope was to escape the cold San Francisco weather but it unfortunately followed us down the coast. Despite the rain and the cold, it was a nice weekend. We met up with friends, ate, went to the symphony, ate more, relaxed, spent time with my parents and revisited some of the things that make Southern California great:
You can see a movie in San Luis Obispo for six dollars! I was in heaven watching Block Party for half as much as movies in the city cost.
The Madonna Inn gets better and better each time you visit.
If someone invites you to a St. Patrick's Day party at the local senior center….go. It will involve a lot less bunco and pinochle than you think.
Artichokes are $0.75, local wines are $10 and avocados are two for a dollar. Plus, the mother of all salsas.
MEXICAN FOOD! Spicy salsa, tasty beans and food that is actually served hot.
The 101 freeway is called "the 101," not "101" like in Northern California.
It was so nice to see Ken, Rich, Molly, Dave and Margaret over the weekend. Hopefully, we'll catch up with most of them again next weekend in Yosemite.
(Jean and Trent – Your car is parked in a spot on 14th Street that's good through Thursday. We have artichokes and other goodies for you! How was Colorado?)