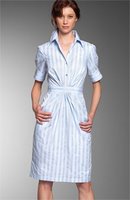 Things I love today: Shirt dress
I l-o, l-0, l-o-v-e this dress! Wouldn't you feel just like Katherine Hepburn wearing this around town?
Throw on a cute belt, a few bangles, a skinny clutch and some bright shoes and you're ready for anything. Avoid white accessories that could possibly turn it into a nursey-looking ensemble.
BCBG Pinstripe Shirt Dress – $160