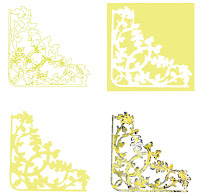 Things I Love Today: Illustrator Live Trace
Graphic design software is so cool sometimes! I was playing around with that photo of the oak brackets in Illustrator when I remembered that they had come out with a new tool that would make this a breeze.
Live trace instantly converts photos into outlined vector images (I know, this doesn't really make any sense unless you are a design geek). All you do is click one button and you have a completely adjustable outlined design. One more click lets you play with colors and textures.
This little "warhol" line-up took me about five minutes. With a few more little design tweaks, I'll have some cool wedding invite designs ready to show you.