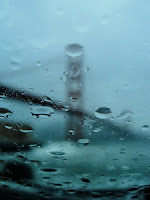 Urban Girl Almanac: Roomies
This has been a very full week. It's been so fun having Nicole as our roommate. Now we have two more roommates: my sister and her boyfriend visiting from North Carolina. It's a full house in our one-bedroom apartment and I'm loving it:
Tanning really does help with pink cornflake (pityriasis rosea). My rash is so much better.
I ate seafood four days in a row this week.
Our housekeeper taking great care to make Nicole's air-mattress-bed in the dinning room was the cutest thing ever.
Sweet potato chips are easy to make and really tasty.
Still loving Pushing Daisies. I want to marry it and have little half-Pushing Daisies, half-human babies.
I'm not prepared for this rainstorm we're currently having.
Trader Joe's sells a really good beet, chicken and feta salad.
My dermatologist eats at the same sushi restaurant as we do.
Don't wear a short skirt and tights when it is pouring down rain outside.
All this rain has me fixated only on being back in bed with a good book. Preferably wearing satin pajamas and a giant, soft sweater. Hopefully the rain will stop before Ethiopian food tonight with my parents. The big wedding is tomorrow and then off to Inverness through Wednesday.