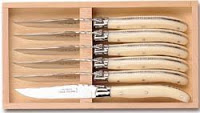 We received our very first official wedding present yesterday afternoon. A set of these lovely Laguiole steak knives with enamel handles from a dear family friend in Cape Cod.
This is one of my favorite off-the-registry gift standbys. They also make a carving set and cheese set. The little bee symbol, French origin and wood case makes them a real heirloom. If only I could find a source that sells the cake set in the US.
I checked the etiquette and you're allowed to open the present and send a thank you card now. Of course, no using the presents until after the wedding! Who wants to come over for some steak in November?