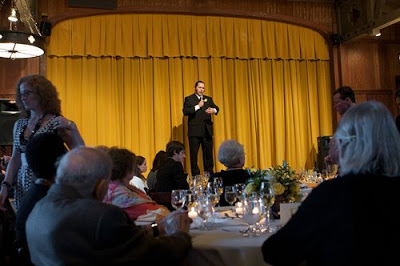 Ah, the show….Up till now, the wedding had been your garden variety awesomeness. The show took it to the next level. Not because we're all so talented (ha! that's a good one) but because it was so charming.
Rob and I were more nervous about the show than about actually getting married! We opened with our performance of I Can't Give you Anything but Love, which generously received a standing ovation from our friends and family.
From there, my uncle performed A Trumpeter's Lullaby. Jean and I were next with our Sisters act. And with it, the second "Wedding Miracle" of the weekend. With only one little rehearsal, we managed to pull this dance off with panache!
Our pianist and his wife performed Only Hope after us and then my tap-dancing, baton-twirling aunt brought the first act to a triumphant close with her performance of GI Blues. Another standing ovation for her!
Time to celebrate surviving the first act with an intermission break for cheesecake and coffee…
PS: Doesn't Rob make a handsome musician?