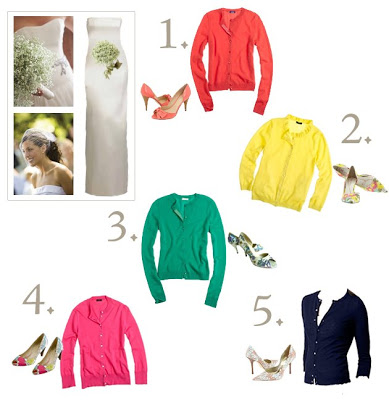 Wedding Wednesday: Shoe Challenge
I had a hard time finding wedding shoes and ended up dashing around the city like a crazy shoe-hummingbird every weekend before my wedding. Kiri wrote in with a similar dilemma for a rush order What to Wear request:
I am writing because I am exactly 32 days away from getting married with no shoes to wear, and I am at my whit's end! I will admit, what I envision in my head is very particular: floral pattern, spring colors, peep-toe, with a bow or flower embellishment at the toe.

Well, I feel like I have scoured the internet and my local stores, and nothing was quite right. Until J. Crew released their Spring collection! I saw the Avignon Patterned Peep Toe and fell immediately in love with its delicate floral pattern and spring colors, with a bow to boot! But alas, I simply cannot bring myself to spend over $300 on a pair of shoes. That is more than I spent on my dress! I was hoping to tap into your brilliance for some ideas of other floral patterned shoes in the under $200 range.

I am attaching a photo of my dress and my veil. I don't really have colors or bridesmaids (we had to move the wedding up several months at the last minute due to my brother's deployment overseas). My ring is a modern-looking brushed white gold band, and I am wearing pearl earrings.

I am planning to have a simple baby's breath bouquet and to wear a cardigan sweater to keep me warm on what will probably be a chilly, wet Portland day. The cardigan has yet to be bought as well. Eeeeek!

My shoe size is an 8.5 and I would like to keep the shoes under $150-$200. I tend to like jewel-tones or bright colors (I have darkish brown hair and pale skin) but am not opposed to Spring-y lighter colors (although pastels tend to wash me out).
This is a great chance to find a cheery pair of shoes and a investment cardigan that you could keep wearing for years. Here are a couple options: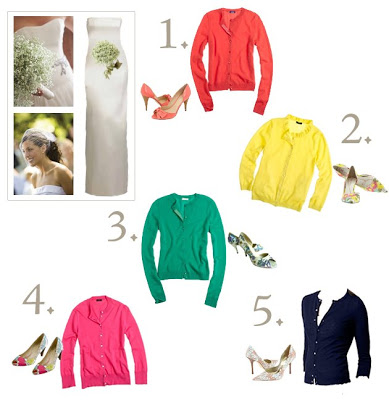 1. Syria – Not a floral pattern, but a peeptoe with a cute bow in a flattering color. $96. Paired with a cashmere papaya cardigan from J.Crew on sale for $96.
2. Christa – Floral patterned pumps with a moderate heel for $80. This pattern also comes in a peeptoe slingback, but I don't like the heel as well. Paired with a yellow ruffle cardigan from J.Crew for $39.
3. eBay – $20 shoes through eBay international is certainly a dubious proposition, but it might just work. These shoes, with a blue grossgrain bow sewed on the front could be super cute. Paired with a green jackie cardigan on sale at J.Crew for $99.
4. Darby – This is my favorite choice and also the cheapest. $17 on sale at Target. The colors are brighter, but somehow still "bridal" and I like the shape. It also comes in a brown and green pattern. Paired with a fuscia jackie cardigan for $64.
5. Carrie – The most "bridal" pattern I was able to find. $80. I wish the toe were rounded instead of pointed though. Pairing with a navy cardigan from Gap makes the look very "classic."
Other choices:
Shari – Peeptoe slingbacks with felt flowers in either red or blue from Macy's for $51.
Arial – Peeptoe pumps from BCBG for $80…the pattern is a little too bold for this wedding.
Gabrielle – Entirely not what Kiri is after, but these flats are super bridal and lovely and on sale.
eBay – Always a good place to look for this sort of obscure item.
Vintage – Another great place to look.