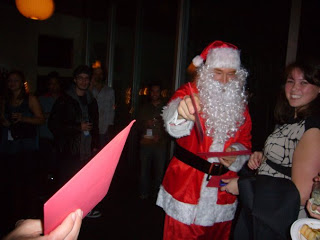 Weekend Round-Up: 'Tis the Season
This was one dynamo of a weekend! We kicked things off with two company Christmas parties on Friday night. First, Rob's company celebrated at Bacar. We only managed to get through wine, appetizers and a calamari frisee salad before having to dash across town in a cab for my company's event at Rosewood. My boss dressed up as Santa to pass out holiday presents: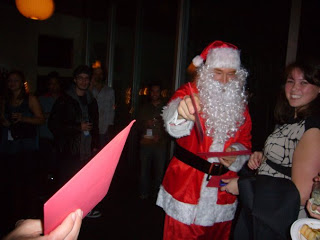 We danced the night away after the gifts and speeches – Margaret arrived after her party finished. I have the unfortunate habit of believing I'm excellent at the "robot" when tipsy…so that was fun! Cab home around midnight. We had a pot of chamomile tea, made Margaret a bed in the living room and called it a night.
Up the next morning fairly early. Margaret and I walked up the street for some pastries and a badly needed pedicure. At 11, Rob and I dropped her off at the train and dashed around the city looking at apartments. We found a great loft in SOMA, applied and held our breath. The rest of the day was spent relaxing at home and writing Christmas cards.
Up early on Sunday morning with a very full day of Christmas shopping ahead. I met up with Margaret in San Mateo in the morning and we went straight to the stores. I found some excellent gifts to round out my list. Back home at 5:00 loaded with bags, I spent the evening wrapping gifts.
And *fingers crossed* it sounds like we were approved for the new apartment. I'll really miss our little Duboce Triangle place, but this new loft comes with peace and quiet, a dishwasher, private patio, washer and dryer…we may never have to go to the laundromat again!