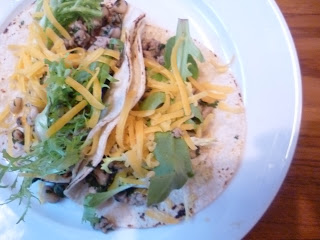 Recipe: Green Chili Tacos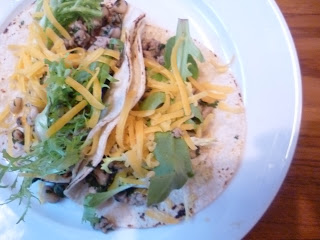 This was an easy, tasty weeknight dinner with flavors that reminded me so much of the green chili in Santa Fe.
Green Chili Tacos
For two
1/3 lb of lean ground turkey
1 cup of white beans or black eyed peas
3/4 cup of fresh cilantro, chopped
1/4 cup of fresh oregano, chopped
1/2 small onion, chopped
1 tablespoon of salsa verde
2 teaspoons of good quality chili powder, preferably green
Salt and pepper
Corn tortillas, lettuce and cheese
Soften the onions in a skillet with a dash of olive oil. Add the ground turkey, season with chili powder, salt and pepper, and brown. Add the beans when the turkey is nearly done. When the beans are also cooked, add the salsa and fresh herbs. Turn down heat until ready to serve with hot corn tortillas, lettuce and shredded cheese.