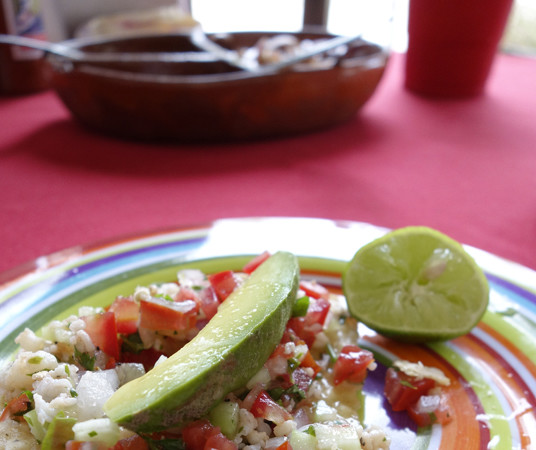 Our days in Sayulita rotated between four primary activities: swimming, reading, paddleboarding and eating. Oh man, we did a lot of eating! The food was so, so good.
Mostly, I ate a ton of ceviche. This shrimp ceviche tostada was served up at a tiny restaurant on the main Calle Revolucion for about $1. With cucumbers!
We also had more delicious ceviche and tacos at the little roadside stands a block from the main plaza. Freshly fried shrimp and fish tacos with giant glasses of melon agua fresca.
Some of the best food we had was at the tiny grill in the parking lot at Playa Los Muertos. Freshly grilled mahi mahi with lime on 18″ bamboo skewers and freshly machete-d "cocos frios" which were fun to crack open after drinking the coconut water inside. They had oysters too, which I love, but thought that would be really pushing my iron stomach too far.
Breakfast tended to be our biggest meal of the day and in an actual restaurant. We started each day with coffee and guava smoothies in the room before venturing out. I had chilaquiles two days in a row…yum! Here, with red sauce and chicken at Mary's, the next day with green sauce and eggs at the hotel – which were even better. Rob added breakfast burritos and banana pancakes to the mix.
And, more ceviche! This was our last meal of the trip: double shrimp and fish ceviche tostadas. Not pictured: carne asada tacos on homemade tortillas, shrimp stuffed chile rellenos, cream filled donuts sold by a vendor at the beach, lots of guacamole, Pacifico with lime and giant daiquiris.