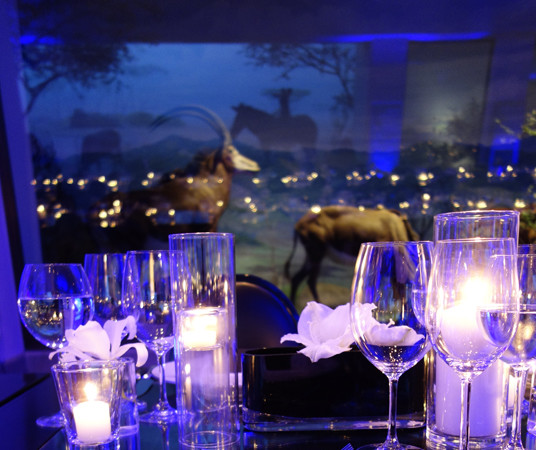 Inspired: Academy of Sciences Party
I went to the most amazing party last week! Figuring out my new role as VP this summer has been pretty stressful and demanding – this event with fancy Silicon Valley investors was an excellent perk. It was the day before we moved apartments and a bit of a blur.
Held at the California Academy of Sciences, things started with a luncheon and presentations, then a fancy cocktail reception in the aquarium (eating fish while watching fish is a little creepy) and a gourmet dinner in the Hall of Africa. I was seated next to my favorite diorama:
Love the long table set-up. It would actually be pretty easy to recreate at home. The table is mostly tea lights with a few white flowers thrown in. White calligraphy on black paper on the name tags and placecards was an extra nice touch.
Look at these fancy people eating dessert beneath a cheetah! The live penguins at the end of the hall watched the party all night.