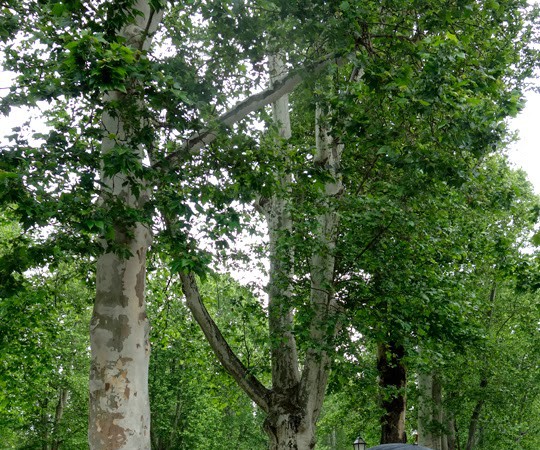 What to See, Eat and Wear for a (Stormy!) Day in Zagreb, Croatia
With the storm bearing down on Croatia, we were nearly trapped out on the island of Korcula. There was just one ferry out, and it left at 6:00 am from Vela Luka, almost an hour on the other side of the island. We made it on to the crowded ship packed with other "refugees" and had a very rocky ride back to Split. At one point the locals started singing folk songs that I'm pretty sure roughly translated to "please let us not sink to the bottom of the ocean."
We had a quick break in Split for coffee and lunch before taking a taxi to the airport and a very harrowing $60 flight in a prop plane to touchdown – on one wheel! – in Zagreb, Croatia's capital city. Bus to the city center. We checked into our funky little apartment all feeling pretty queasy and not sure if our detour had been a good choice. Spent a quiet night watching Grand Budapest Hotel in the movie theater around the corner. In the morning when we stepped out to explore, it was clear our exodus was the right move. {Note: this storm turned out to be a record-breaking, massively-flooding cyclone.}
Zagreb is a lovely, cosmopolitan city full of parks, museums, theaters, shopping, restaurants and cafes. We stopped in the main square first thing to get the lay of the land.
The Museum of Broken Relationships was our next stop. A surprisingly uplifting collection of mementoes and stories.
We were so excited to see that it stopped raining when we wandered down to the Museum of Archeology after that.
The boys posed with hometown hero Nikola Tesla.
Then we ducked in to the National Theater to see about tickets to the play that evening. In their helpful way, the Croatians at the ticket desk told us the show was far too boring and we should skip it!
Shane and I bought tickets to the National Arts & Crafts Museum, which had a wide collection of sculptures, furniture and porcelain. Excellent special collection featuring a local surrealist print-maker as well.
Time for lunch! We ducked in to Cuspajz, a friendly local cafe that serves up hot fish, lentil and vegetable stew with herbed polenta and hearty bread. The perfect thing for a stormy day.
After lunch we wandered to the north part of the city through Hungarian-influenced beer gardens and the massive cathedral.
Beautiful view as the hillside starts to rise up to the mountains in the north.
Back to the center of town for a dessert and coffee break at Zagreb Slasticarnica. The meringue cake was filled with Italian custard, lemon curd and a gingerbread cookie crust. The chocolate cake had a citrus creme brule filling. The powered sugar covered truffles were filled with cinnamon chocolate ganache. YUM.
We left Rob to work in the cafe and set out to shop for dinner supplies in the artisan market in the main square. Bought a variety of sausages to sample as well as fig pie, lavender, gingerbread cookies and other goodies to take home.
On the walk home, we stopped to peek in at the Art Pavilion.
It would be easy to spend a full week in Zagreb just exploring all the museums.
I cooked dinner for us at home with potatoes, sauerkraut, the different kinds of sausages and asparagus.
Nicole turned in early with a book and the rest of headed out for some nightlife. Tkalciceva Street is the main drag and where we found our first bar, with live jazz music tucked away on a quiet alley.
The waitress there suggested we go to Alcatraz next, so we walked back through town.
On our way home from Alcatraz, we stopped in for late night hamburgers in a hipster cafe straight out of San Francisco across the street called Burgeraj.
I am so, so glad that we got to see Zagreb as part of our Croatian trip. Vastly different than our original plan to be sunning on the deck of a sailboat, sure. It is a creative, artsy city with so much to offer.