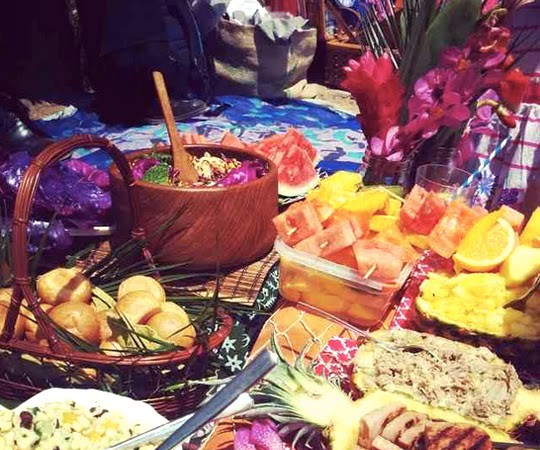 A South Pacific-Themed Hawaiian Picnic at Mt. Play
The Guests
16 people made the trek up 2,500 feet to the top of Mount Tam, dressed in an A+ mix of military and hawaiian costumes. I provided the sailor hats, leis and flower hair clips.
Gear
My picnic basket is tricked out with tin plates in Turkish Garden from Mottahedeh. I've also upgraded the plastic glassware and added plastic "cabbage" bowls and blue paper stripe straws. Thermarest camping mattresses make it more comfortable to sit on the rock amphitheater. Those were covered with tropical sarongs and tablecloths. I brought a small camp table that stands only 2 feet tall. Tropical flowers and orchids from the wholesale flower mart.
Lunch
I only made the first two dishes here. We had a amazing group of chefs in our group!
Hawaiian sliders made with teeny rolls from Acme Bread, kalua pork, grilled teriyaki spam and pineapple – all served in carved out pineapples, of course!
"Corny as Kansas in August" salad made with white corn, mango, jicama, black beans, ginger and cilantro
Spicy quinoa and cashew salad served wrapped in red cabbage rolls
Rainbow tropical fruit skewers
Tomato pasta salad
Hawaiian sweet onion potato chips
Mango salsa and chips
Dessert
Eric made mango creme brulee and brought a full sized blow torch to caramelize the tops at intermission. Amazing!
Salted caramel and coconut rice krispie treats
"Normal as" blueberry pie
The Show
The actor playing Emile had an excellent voice for all those romantic songs. Lots of singing and dancing. Full-size vintage military trucks driving around and even a fly-over of period military planes at the finale! A very nicely done show.
Drinks
Thankfully it wasn't as hot as usually on top of the mountain. We served hydrating wine spritzers with pineapple, mango and POG juice.
The Verdict
Picnic contest winners are usually announced at the end, along with next year's play (Peter Pan!) but they forgot this year. I'm on the edge of the seat waiting for a call to hear if our tropical picnic was good enough to bring home gold. (Update: We won!)
Happy summer picnic-ing!