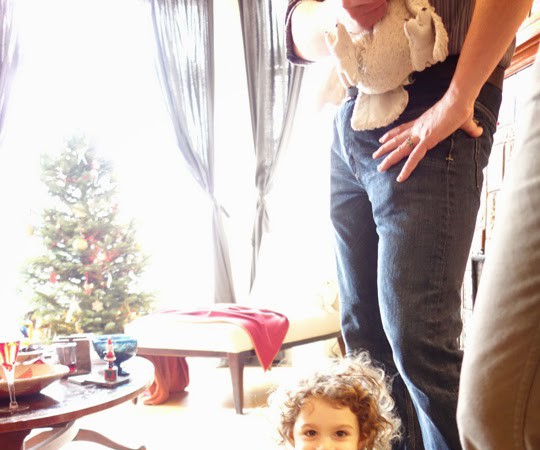 5 Step Party: Christmas Brunch for 20 Guests
What could be more festive than a 17-pound roast ham? For the last nine years, Rob and I have hosted a Christmas brunch for our friends featuring a locally-cured delicious ham. The menu is so simple and so fun. It's one of my favorite parties of the year.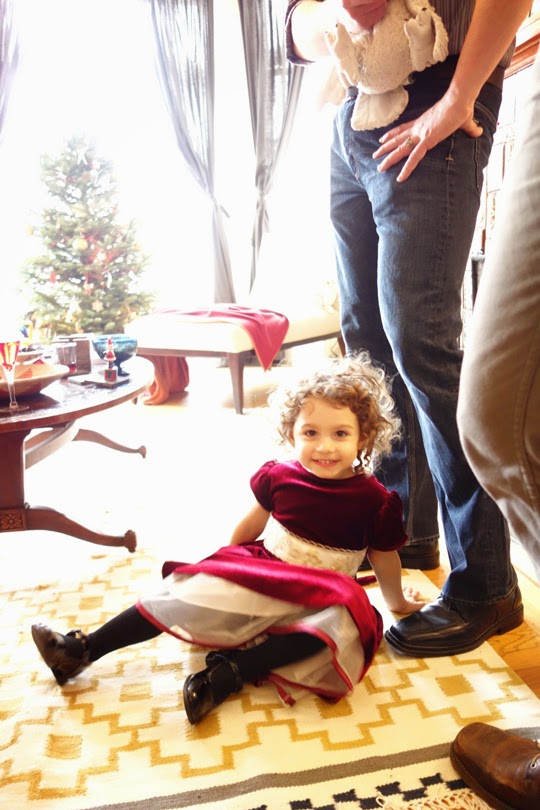 Menu
Roasted ham with spices, brown sugar and mustard
Savory bread pudding with Italian kale and shallots
Fresh fruit plate
Olives
Dried fruit and nuts
Two party butters: dill pepper and cinnamon orange
Truffle mustard
Coffee with eggnog
Pomegranate mimosas


Step 1: Shop
I pick up a local "deli" (aka: boneless) ham from Roberts Corned Meats here in San Francisco a few days in advance. The ham comes from across the bay at Oakland's Prime Smoked Meats and is a thing of majestic deliciousness. Margaret came with me this year to the San Francisco Wholesale Flower Mart to buy wreaths and flowers. We also made a stop at Ikea for linens and other supplies. Bought bread, kale, cream, cheese, eggnog, champagne, fruit, butter and olives at the local Safeway the night before.
Step 2: Decorate
A brightly-lit Christmas tree would have been fine – but of course Margaret and I went nuts at the Flower Mart and ended up with decorations everywhere.
We made small arrangements with eucalyptus, berries, pine, garden roses and the fluffiest baby's breath I've ever seen.
Rearranged the furniture in the living room to open up space and add seating. Added a lovely wreath to the wall.
Rolled out a fresh Ikea rug in the living room and the house was ready to go.
Step 3: Morning-of Prep
Rob set an alarm for 4:30 am to put the ham in the oven – it has to cook for 6+ hours. When we all woke up at 8:00 the whole house smelled divine. He and Shane went to Acme Bread in the Ferry Building the morning to buy loaves of my favorite "pain epi" bread.
I put together the savory bread pudding to be ready to bake 30 minutes before the party, sliced fruit and put out olives.
Made pots of coffee in advance and set out a pretty station with cream, eggnog and sugar cubes. That pretty silver sugar cube tong is something I picked up in France last winter.
Step 4: Party!
Guests arrived at 11:00 am with adorably-dressed children in tow. Drinks were served and then the buffet opened up. This year's ham was especially good – I'm drooling just thinking about it.
With such a simple menu, I had plenty of time for mingling with guests and chatting. I just needed to put the second bread pudding in the oven and replenish the olives half-way through.
I'll tell you about the fun hair-decorating activity we had during the brunch in a separate post. So festive to celebrate with friends and family!
Step 5: Relax
The party wrapped up about 3:30 and it took a half hour to load the dishwasher and put away the food with the help of Shane and Rob. We had a break for leftovers and tea in the afternoon and then went out to dinner in Japantown that evening. With the house decorated and the fridge stocked with leftover ham – the holiday celebrations are just getting started!