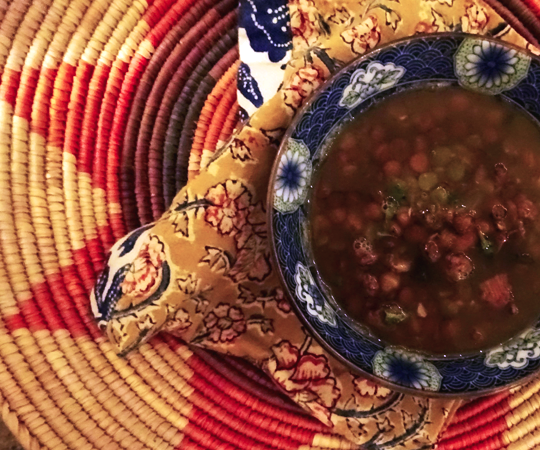 Recipe: Hearty Lamb, Lentil and Split Pea Soup
After a long stretch of travel, an early Thanksgiving, entertaining an eight-year old for a week, more travel, a second Thanksgiving, more houseguests and decorating for Christmas…Rob and I collapsed on the couch on Sunday night with apparently not a scrap to eat in the house for dinner.
I read somewhere that lentils are the place to start when you need a quick meal. So a cup of lentils and a cup of split peas went into a pot. Add to that a few scraps of high quality lamb frozen from the summer's Turkish dinner party and some fresh oregano. The result, a hearty and flavorful one-pot soup for a rainy winter night.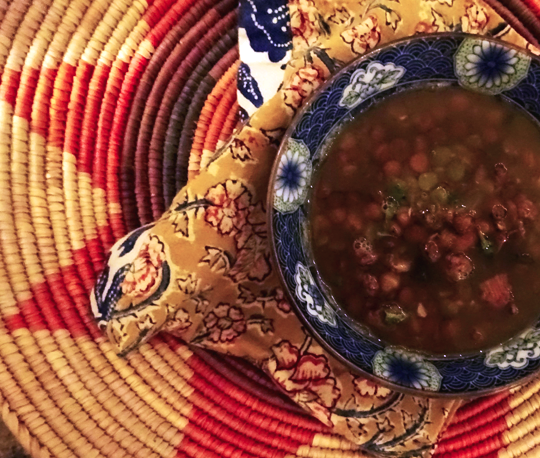 Lamb, Lentil and Split Pea Soup
1 cup of dry lentils
1 cup of dry split peas
1/2 cup of high quality lamb scraps, trimmed lean and cut into small bits
3 cloves of garlic
1/2 small onion, chopped
1 bay leaf
2 cups water
1 cup of amber beer
1 sprig fresh oregano
Hot paprika, salt, pepper
Combine everything in a heavy pot with lid. Bring the mixture to a boil, then cover and simmer on low until the lentils are cooked through (about 45 minutes). If you'd like, use a submersible blender for a few whips to add texture and to blend in the cooked garlic.
The resulting soup won't win any beauty contests. However, the peppery mix of lentils, lamb and oregano well makes up for the lack of visual appeal.