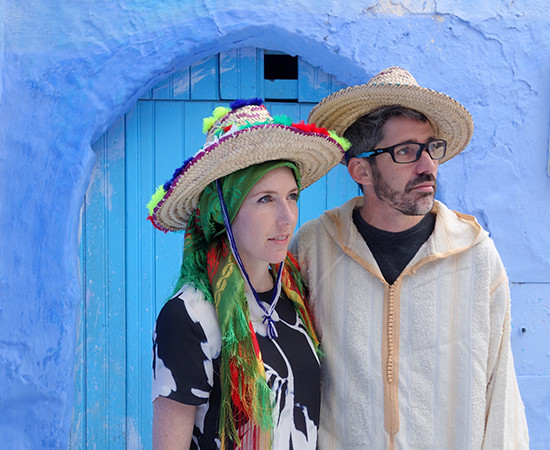 Goodbye to Chefchaouen, Morocco
Before we left for Tangiers and our flight to Paris, Monica insisted on dressing us up on traditional Rif Valley outfits for a photoshoot. A nice way to end our trip and to spend a minute thanking the friends we made while there. I think this one might just be our holiday card next December…if not the cover of the Chefchaouen tourism board brochure even before then.
Here's Rob with Zuhair (left) and Abu (right). Zuhair runs the Riad Gharnata day-to-day. His name means "flower" in Arabic. Quite the linguist, he loved learning obscure American phrases and would wax poetic during tea breaks with "Miss Lauren" and myself. Abu went mountain bike riding with Rob twice in the hillside – he has the sweetest, gentle personality and seems to enjoy Zuhair's big-brotherly teasing.
Finally, lovely Monica who is so hardworking and has such a sense of humor. She didn't speak any English, Spanish or French – but I got to know her best thanks to the bathhouse experience. She was secretly the boss of them all. Note the local man in Rob's same outfit walking down the stairs next to us.
I could have used a couple more layers of scarves to make this outfit truly authentic.
Goodbye Chefchaouen. You were a lovely city, full of lovely people. The best part of our short stay in North Africa by far.
A few pro-tips before we move on to Paris:
Do fly in to Fes to drive to Chefchaouen. The route is a bit longer but much prettier than the drive from Tangier.
Don't stop in Fes. Or, if you really want to, go for a day to explore the medina and don't buy anything.
Shop for your souvenirs in Chefchaouen – where the prices are much, much lower and the negotiation process much friendlier.
Be prepared for some sanitation challenges in this developing country. Bring medicine for traveler's stomach. Carry toilet paper with you when you're away from the hotel. Be diligent about washing your hands and drinking bottled water.
Brush up on your basic Spanish to use as the intermediary language in Chefchaouen and French for Fes.
Stay in Chefchaouen more than a few days. Most tourists seem to pass through in just a few hours.
Make use of the helpful staff at Riad Gharnata to build up your own tribe of connections in Chefchaouen. Tell them we said, "hi!"
Get out there with your Moroccan friends, hiking and biking are lovely in the Rif Valley countryside.