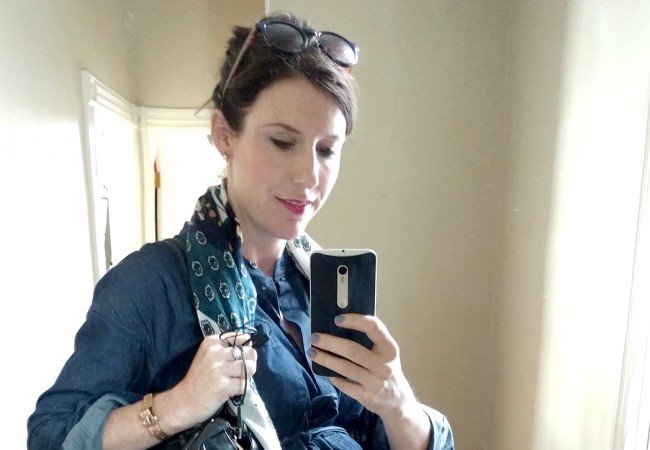 11 Outfits for 7 Months Pregnant
30 weeks pregnant, up 25 lbs and I just booked my highest invoicing week in the 2 years of my brand strategy business. Whew! It's been super busy at EmilyStyle. The third trimester kicked off for me with a major baby growth spurt. An itchy couple of days when it was hard to wear anything beyond the softest robe for more than a couple hours. Our little girl now weighs in at over 3 lbs and is gaining a 1/2 a pound a week. Here's what I wore while jetting about town:
1. Croissant Club Meet-Up
A lovely French-woman from my prenatal yoga class invited me to join her weekly croissant meet-up with a few other mothers. You have it on authentic French authority that the best croissants in San Francisco are had at Le Marais on Chestnut Street. Denim maternity dress from Old Navy, gray heather ballet sweater I bought in Spain last year, flat brown boots.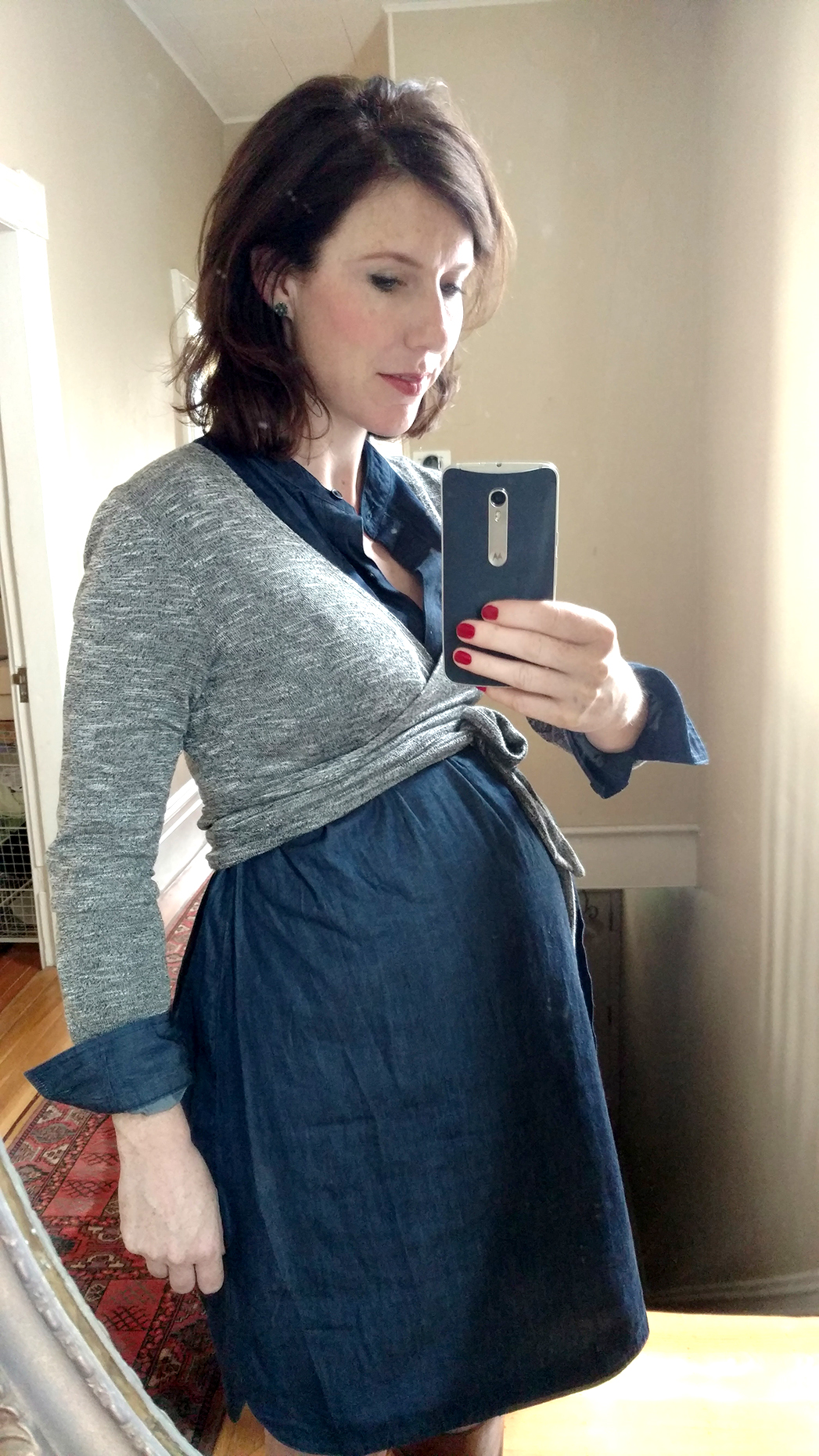 2. Brand Advising Session
I met the founder of a great diagnostics startup for coffee and a brand strategy at the Stable Cafe in the Mission. Navy Japanese Weekend maternity/nursing dress handed down from Jean, tweed blazer from H&M, scarf, flat brown boots.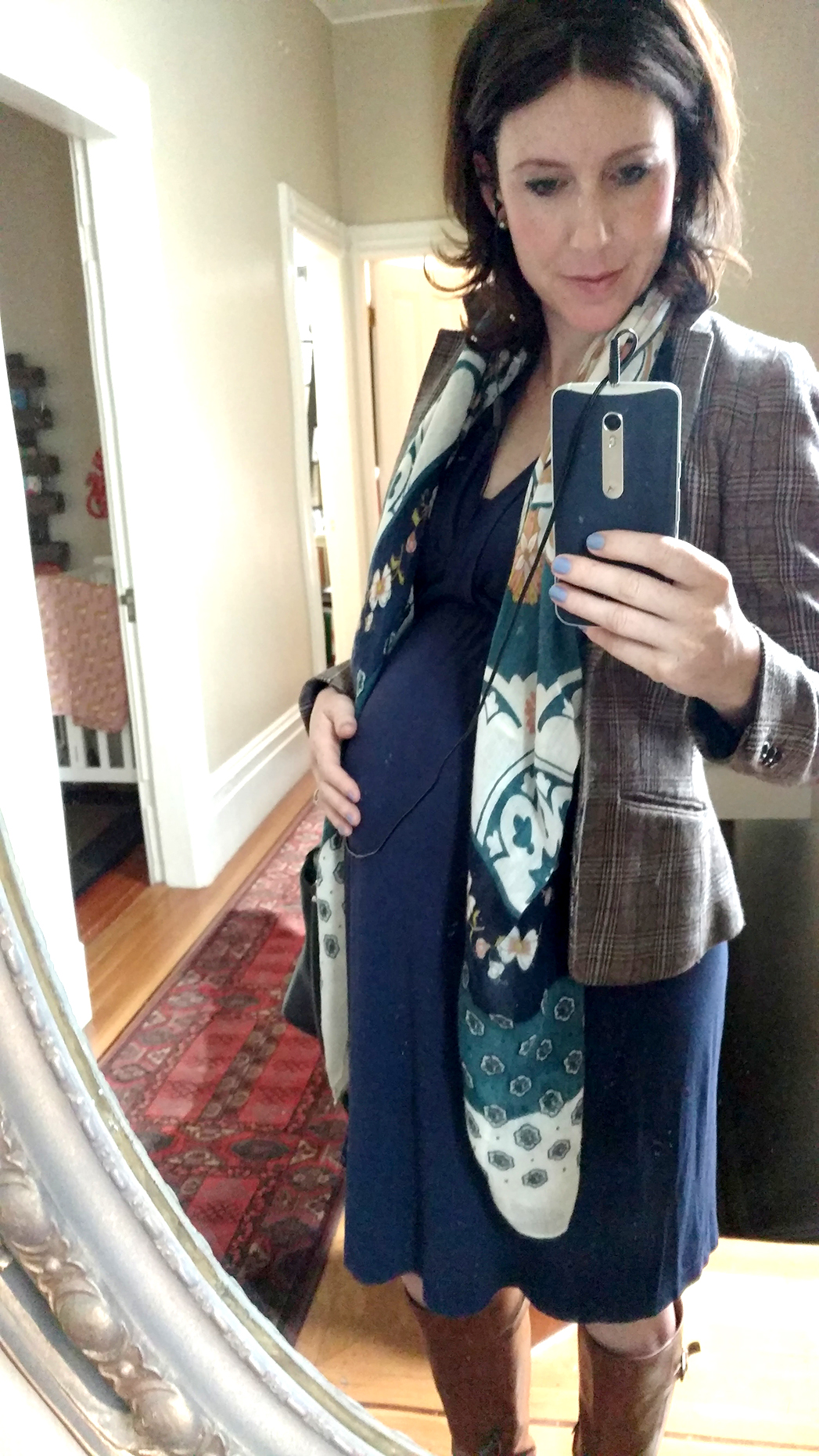 3. Prenatal Yoga
The precise moment I realize just how much bigger the bump had become in the past two weeks. Fabletics workout pants and tank top.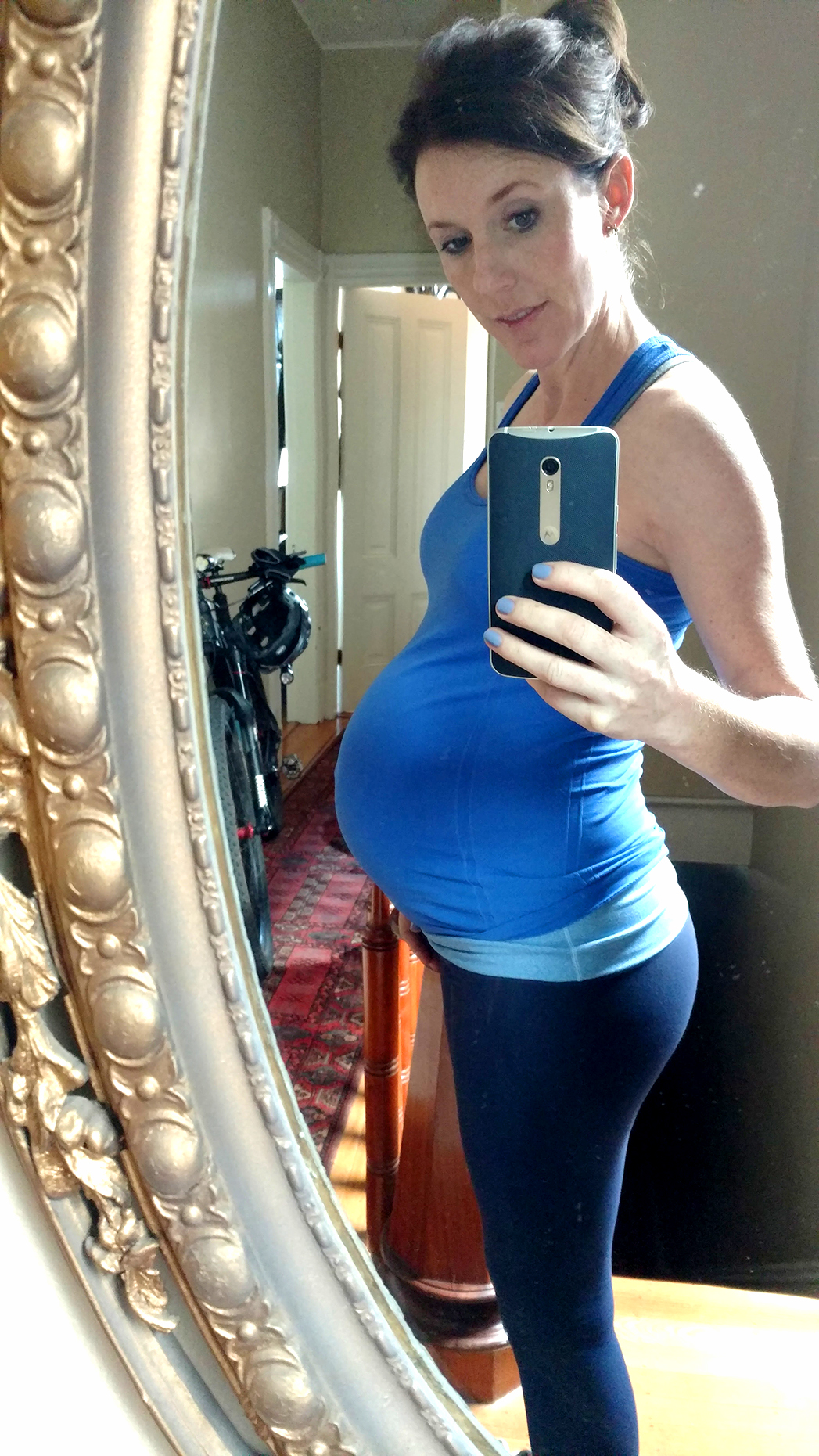 4. Client Coffee Meeting
Walked down to SOMA in the denim maternity dress, scarf and the greatest Kenneth Cole Gentle Souls shoes.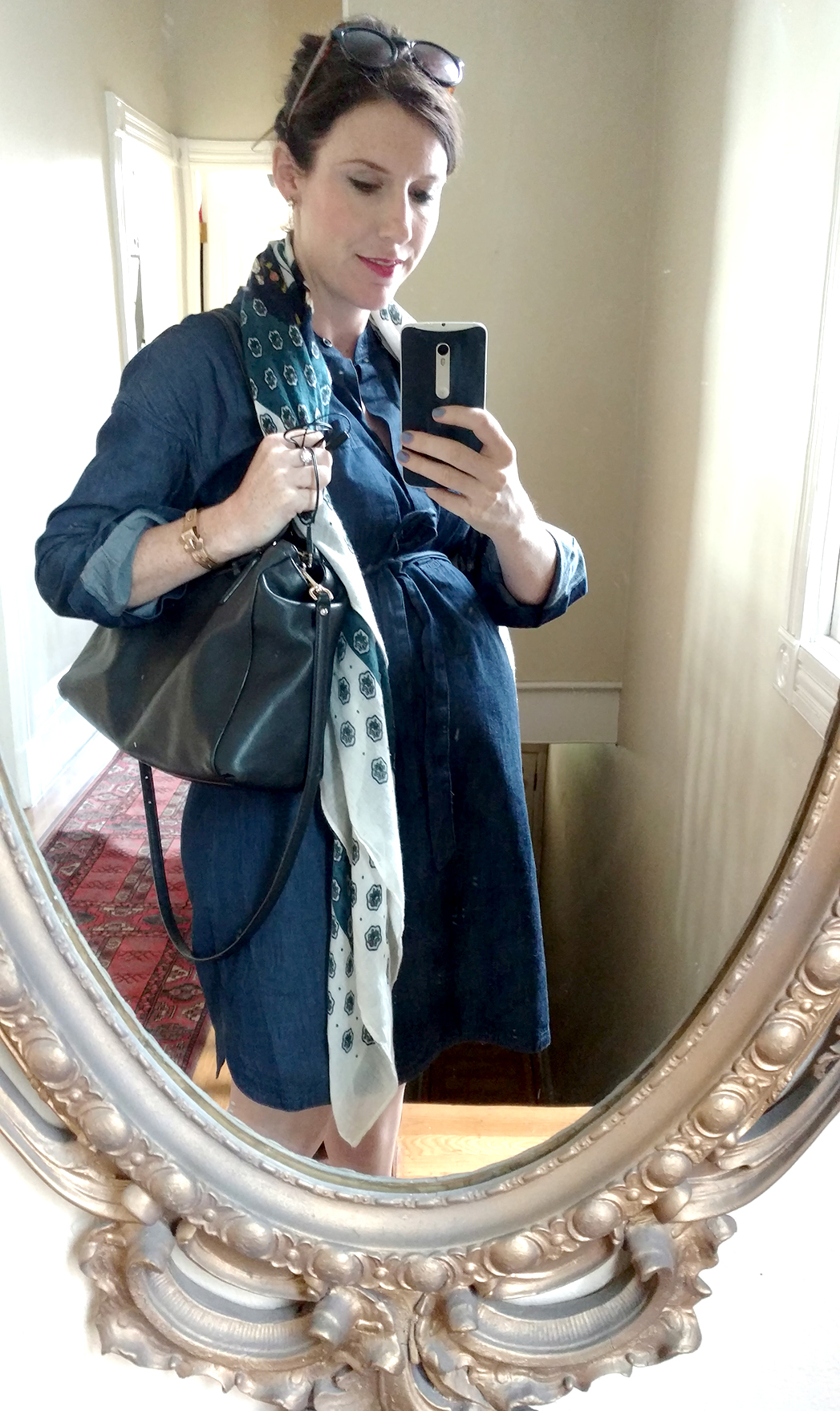 5. Girl Scout Troop Meeting
The side ruching on most jersey maternity dresses is convenient but also hideous to look at. I try to always add a sweater blazer on top to hide the secret workings of comfy maternity clothes. Heather gray maternity dress, teal blazer, wrap belt and flat brown boots.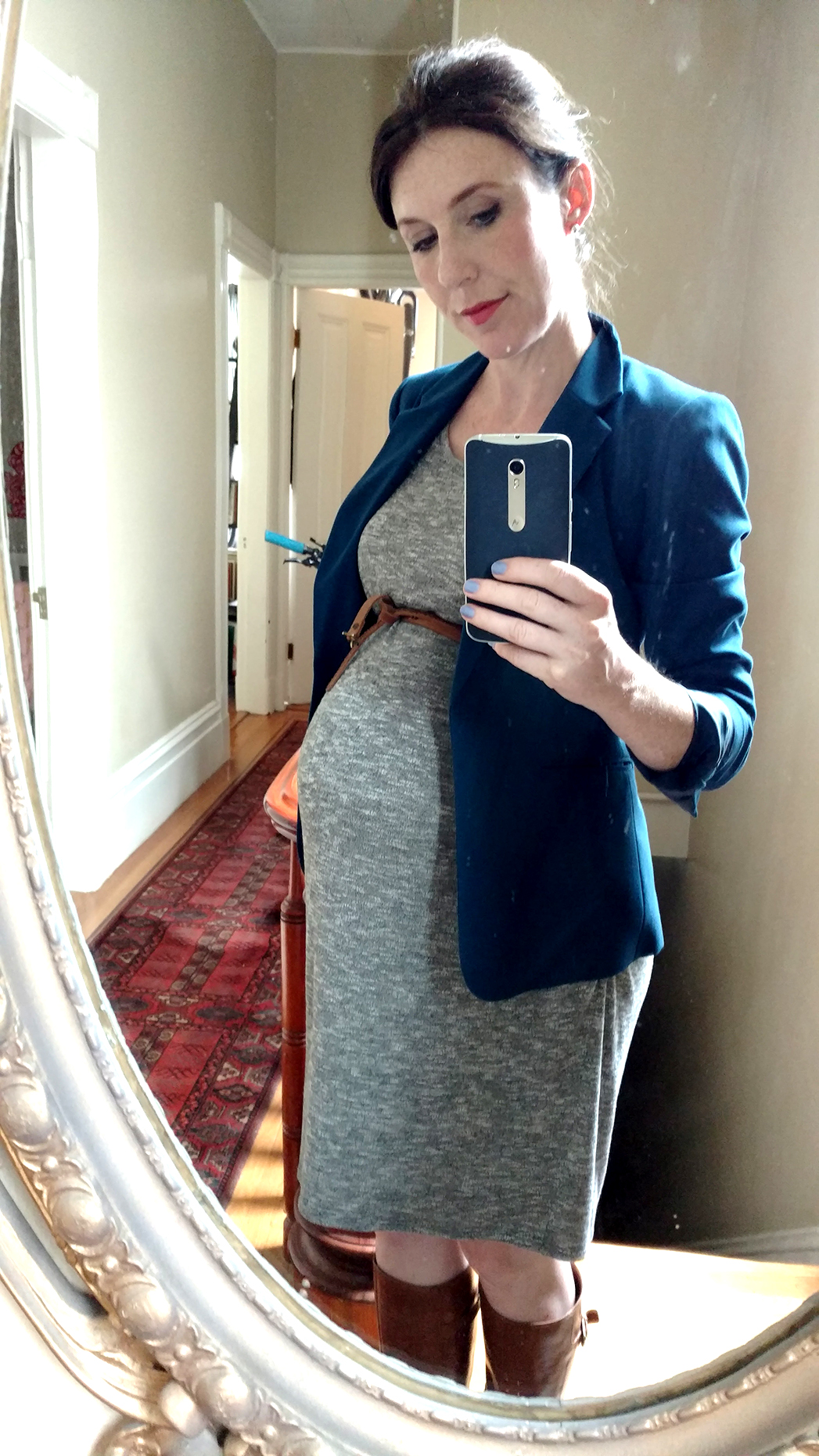 6. Biking in Golden Gate Park
I've recently been getting back on my mountain bike for casual rides through Golden Gate Park. One of the rare times I'll wear pants out. Purple maternity shirt from Gap, white maternity jeans from Old Navy, Kenneth Cole Gentle Souls shoes and scarf.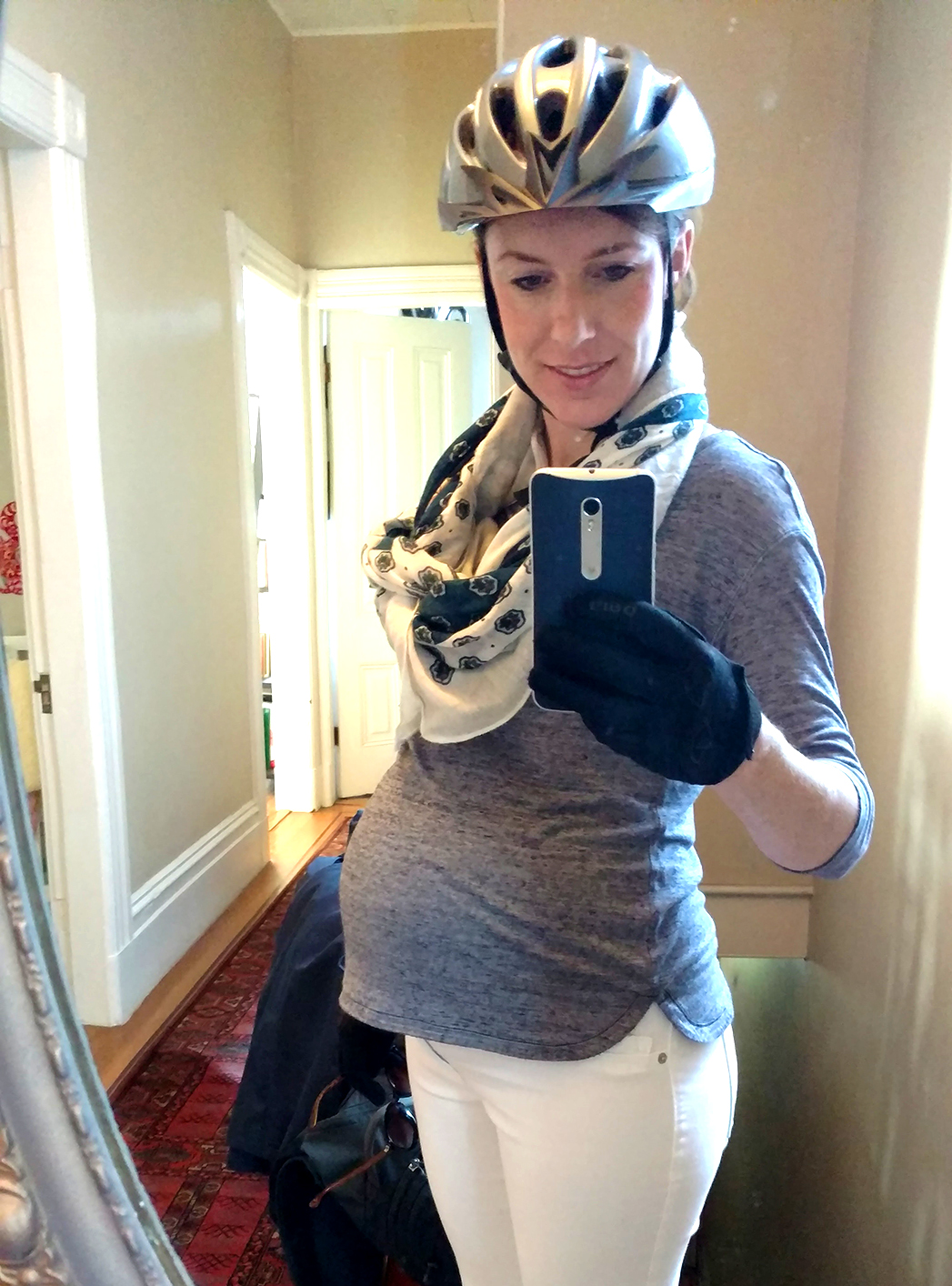 7. 30 Week Ultrasound
The waiting room for ultrasound appointments at the hospital is always full of women in the very final weeks of pregnancy and carrying multiples because they often need weekly scans – I come back home feeling quite petite! Happy that the ultrasound tech reported our girl is very healthy and has long legs. Black and white maternity tank, brown boyfriend sweater, white maternity jeans, gray and camel wool coat, brown wedge sandals.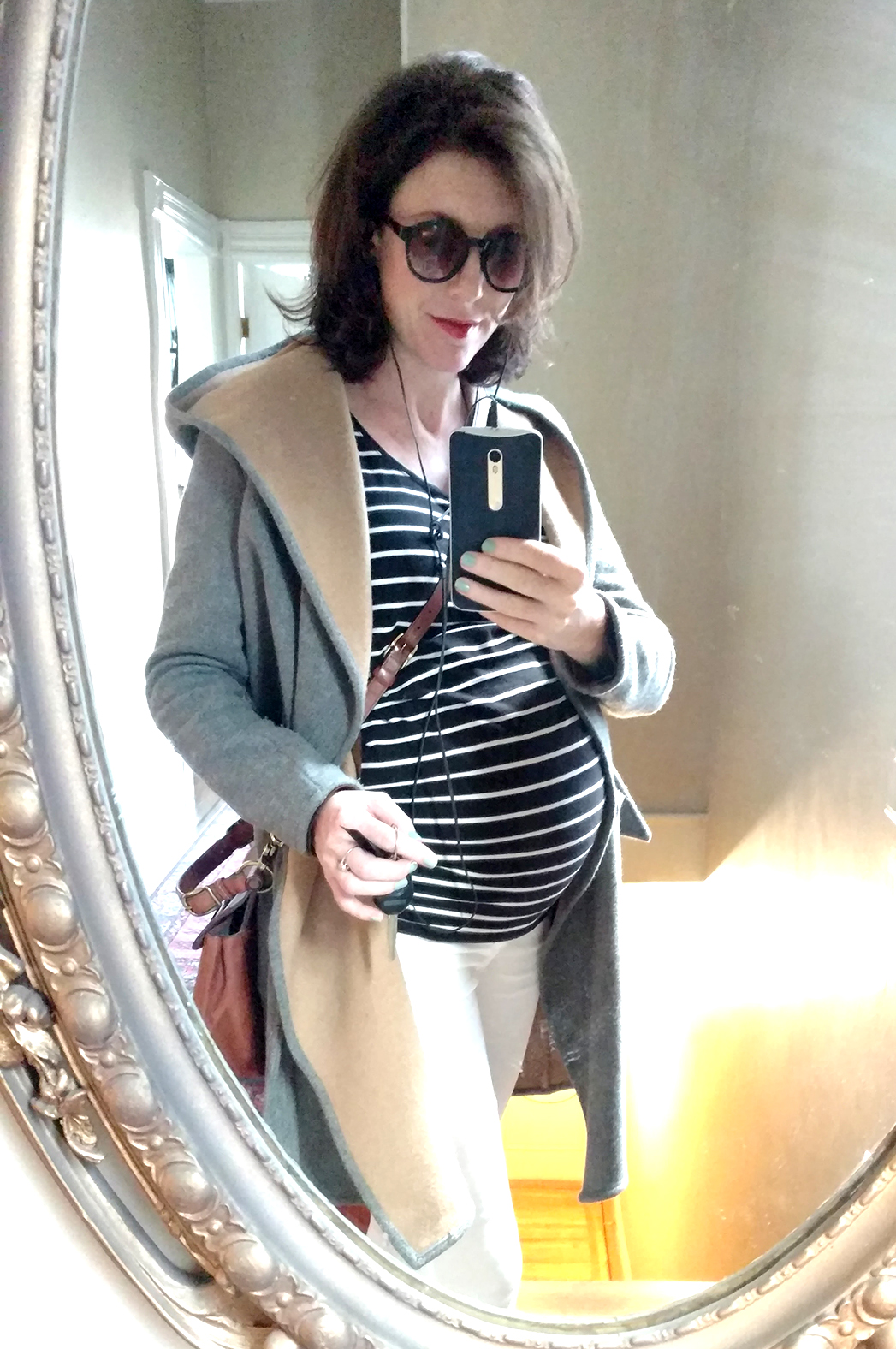 8. One-Day Heat Wave
Spring in San Francisco means it is freezing one day and then hot the next – I bailed early from a very busy work day to go swim with Jean in Palo Alto. I made the saleswoman at Old Navy strip this maternity dress off the mannequin for me when I bought it last weekend. Pretty blue and white pattern featuring sea urchins, same cut as this dress. Paired with brown wedge sandals.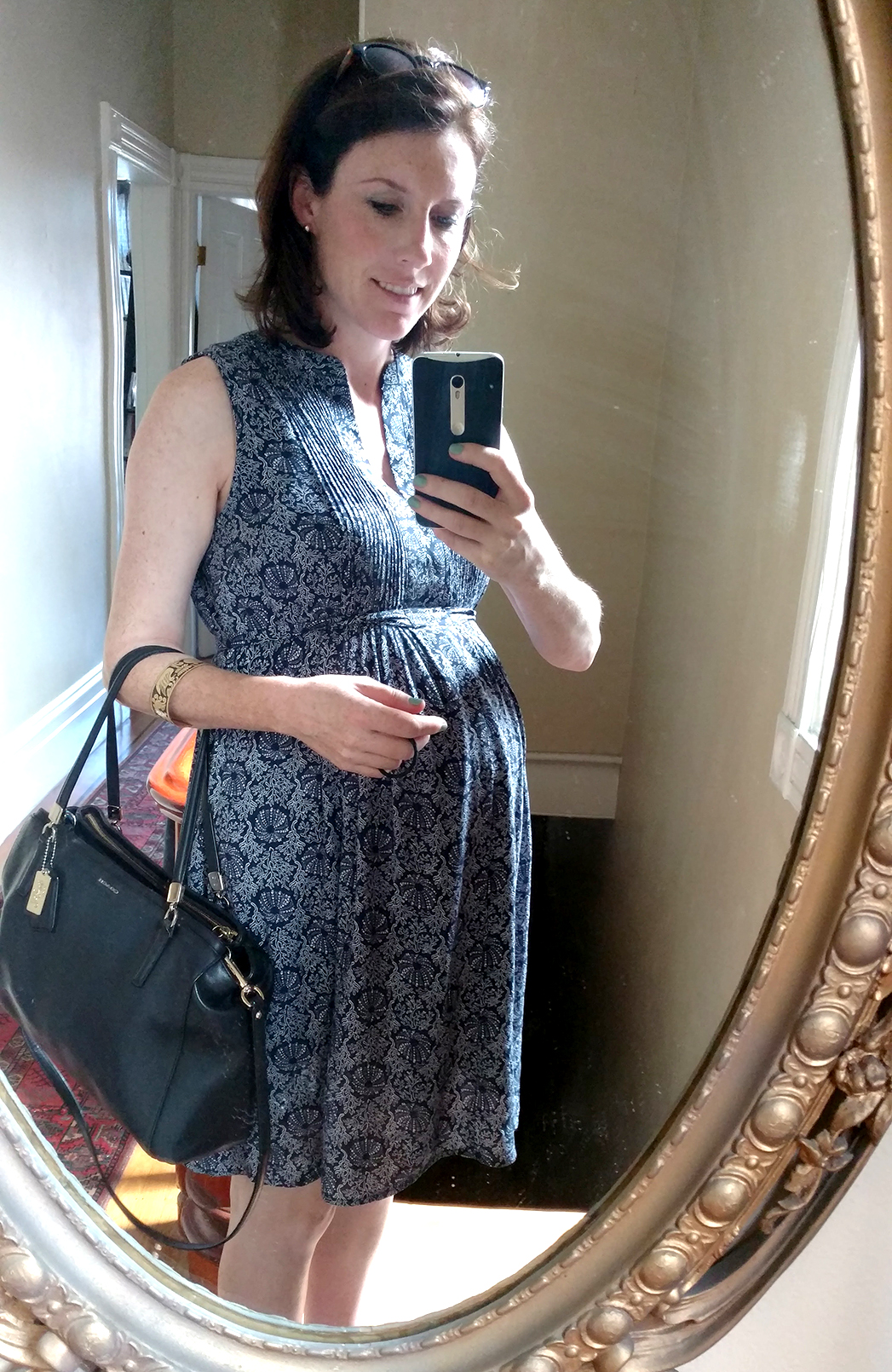 9. Champagne Reception for Fintech Sector
All non-maternity for this evening event with a bunch of bankers. Black H&M treggings I bought several sizes up for New Zealand, swing pleat tank, teal blazer, black Cole Haan wedges.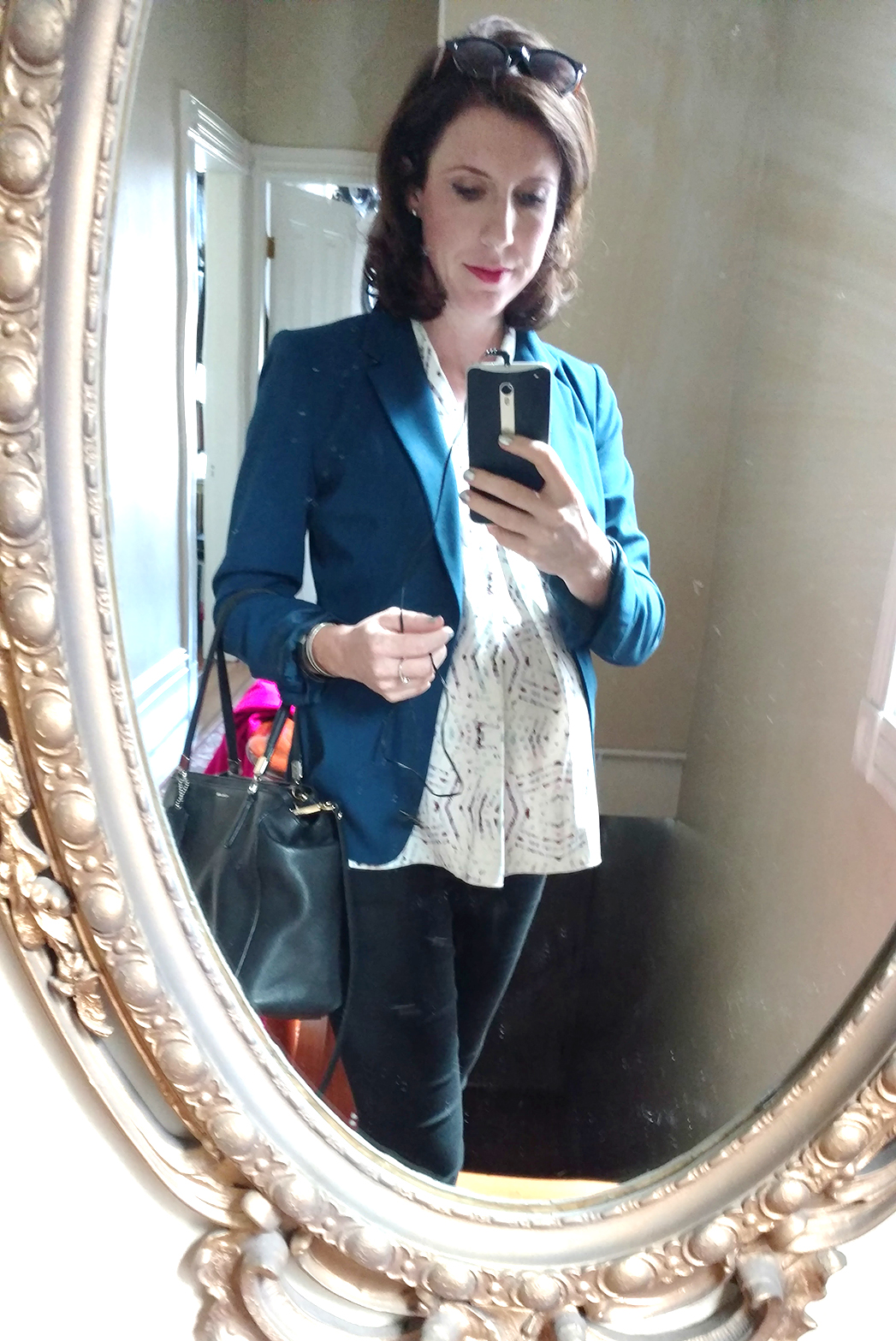 10. Banking Conference
Another non-maternity outfit: Sleeveless green sweater dress from Forever 21, gray Club Monaco blazer, black Cole Haan wedges.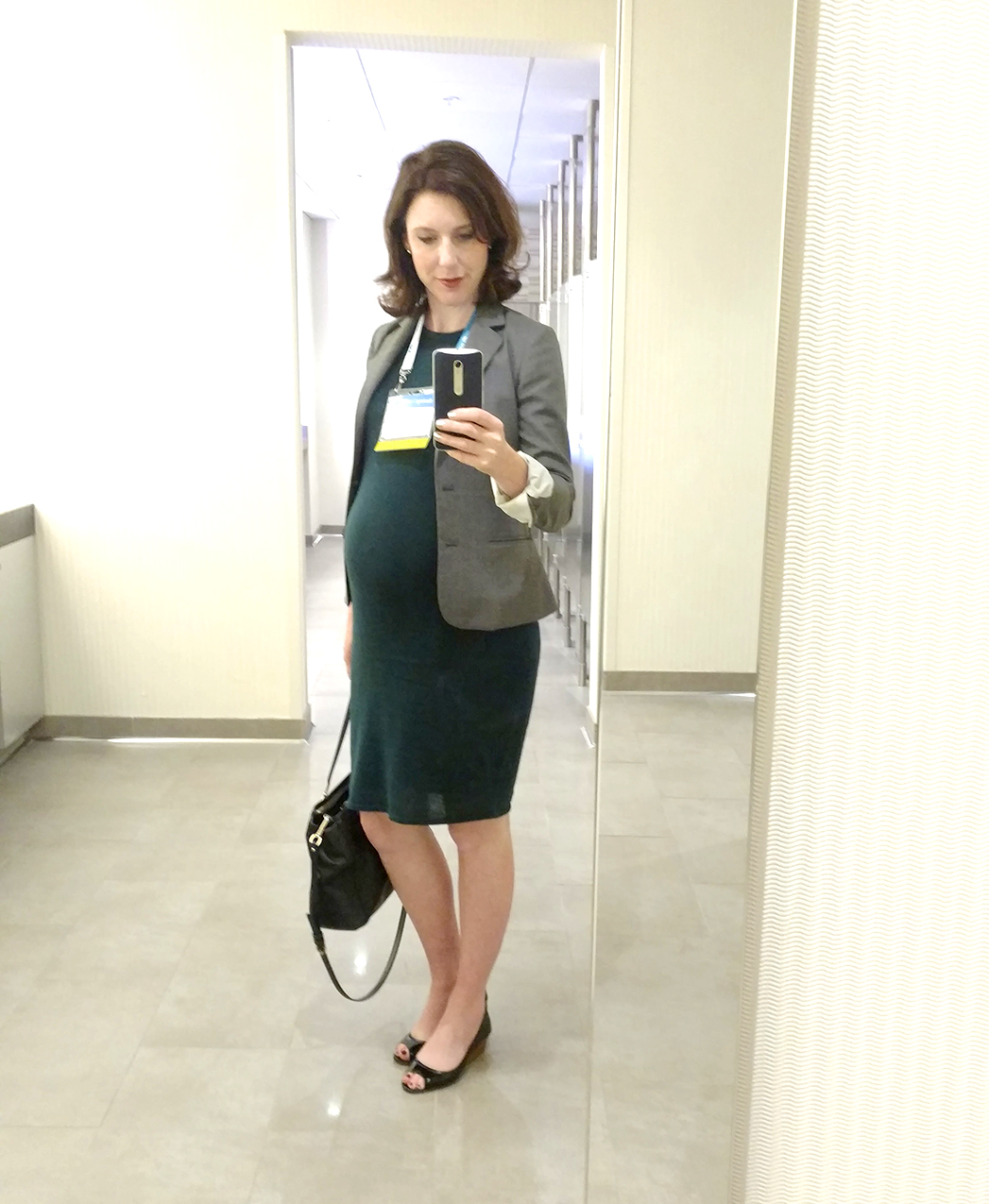 11. Breakfast with my Father
A trio of nuns at the local diner gasped when I told them I had 10 more weeks to go and said they'd pray for me. I might not be wearing this striped dress out any more. Navy maternity dress, brown boyfriend sweater, brown wedge sandals.