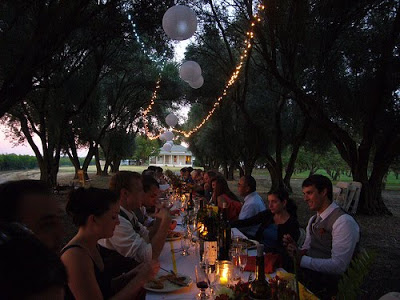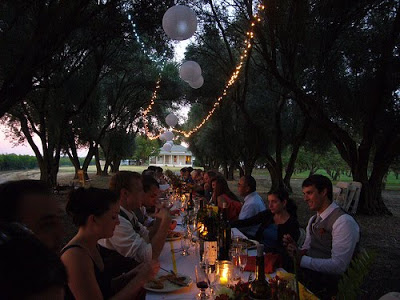 This wedding was the perfect example of how much you can get done on a small budget with a little creativity and a lot of elbow grease. Dinner was served at one long table set down on the olive tree-lined road. The table was decorated with mason jars full of flowers and candles. A team of Trent's friends spent the day before on a rickety ladder rigging those twinkle lights and lanterns overhead. The bride and groom arrived at the party on board a borrowed tandem bike.
Jean's caterer – Picante – provided organic and affordable Mexican spread, complete with tortillas made on site. Bottles of wine and custom-brewed beer were donated. Toasts were made on a portable PA system as a bright pink sunset lit up the farm.
After dinner, the guests picked up the flowers and candles from the table and processed to the barn behind the house for pie and dancing.